A woman has died as Storm Doris continues to bring gale-force winds and heavy snow to parts of Britain.
She suffered serious head injuries from what one witness described as debris "about the size of a coffee table".
West Midlands Ambulance Service spokesman Murray MacGregor added: "Sadly, it quickly became apparent that there was nothing that could be done to save her and she was confirmed dead at the scene."
The coffee chain said it was "shocked and saddened" by the death.
Mr MacGregor told Sky News that it had been "an excessively busy day" for the region's ambulance crews, with "three or four" cars hit by trees but nobody seriously hurt.
He added: "Equally we've had a number of elderly people blown over by the wind - one has had to go to hospital but the rest, thankfully, have not been seriously hurt."
Earlier in the day, the Met Office warned that the storm had undergone "Explosive Cyclogenisis" as it deepened, transforming it into a "weather bomb".
Winds of up to 75mph were reported in Ireland where some 37,000 households are without power due to more than 900 faults, said ESB Networks.
London Euston was among the railway stations dealing with delays and cancellations, with Virgin Trains advising passengers to postpone their travel until Friday due to the storm.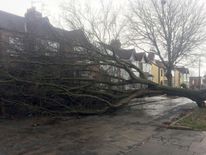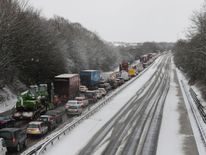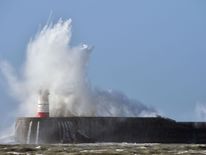 SKY News.