More Scots think Theresa May is doing a better job than Nicola Sturgeon, an online poll for Sky News has found.
The head of the Scottish Conservatives Ruth Davidson polled five points above the PM.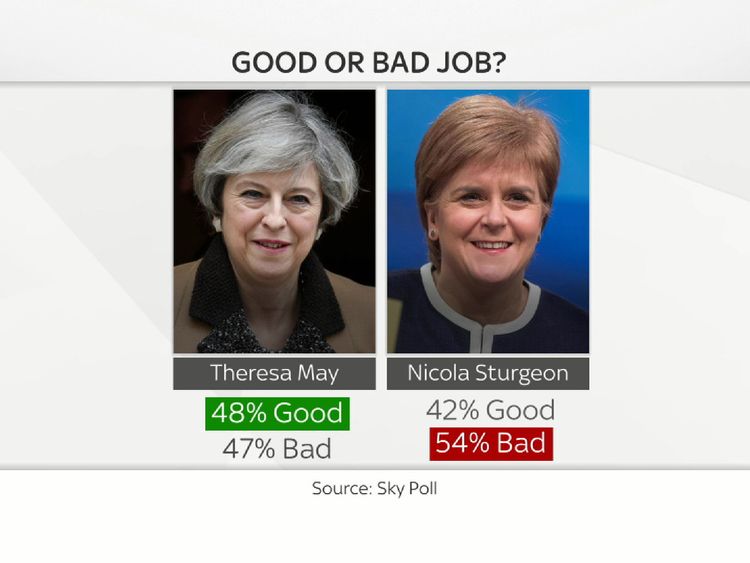 Labour leader Jeremy Corbyn fared worst in the survey, which also included the party's head in Scotland Kezia Dugdale.
A nationally representative poll of people living in Scotland gave their views on whether party leaders were doing a good or bad job. The results were as follows:
Theresa May:
good 48%, bad 47%
Jeremy Corbyn:
good 16%, bad 77%
Nicola Sturgeon:
good 42%, bad 54%
Kezia Dugdale:
good 36%, bad 50%
Ruth Davidson:
good 53%, bad 36%
The survey was carried out in the week after Ms Sturgeon announced her proposal for an independence referendum between autumn 2018 and spring 2019 - around the point at which the UK leaves the European Union.
In
response
, Mrs May said: "Now is not the time."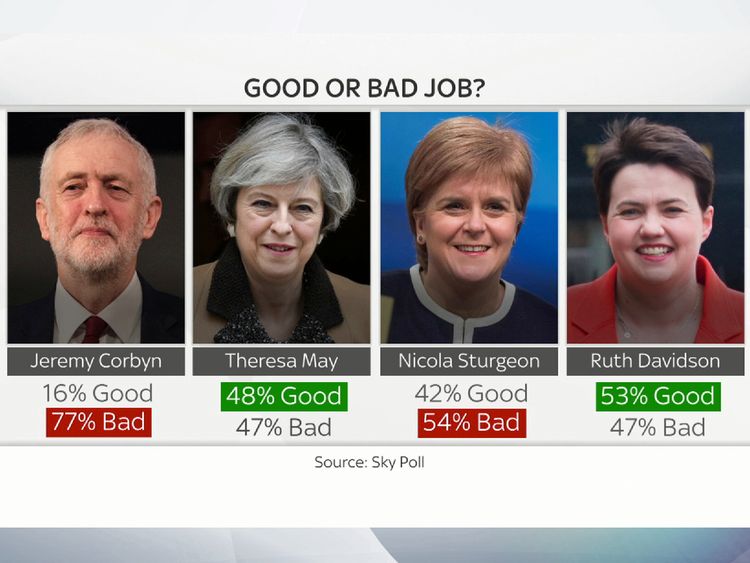 The figures will not make pleasant reading for the First Minister ahead of a Scottish parliament debate on her independence referendum plans.
She is expected to secure the parliament's backing to pursue a referendum.
Her SNP party does not have a Holyrood majority but will draw on support from pro-independence Green MSPs.
SKY News.