Theresa May says Donald Trump was "being a gentleman" when he took her hand while they walked outside the White House.
Footage of the pair was widely covered in the world's media during the Prime Minister's visit to Washington in January, when she became the first foreign leader to meet President Trump.
But in an interview with American Vogue, she laughed off the hand gesture, saying: "I think he was actually being a gentleman."
Asked by the magazine what she thought of the US commander-in-chief, she said "I like to think we got on."
The PM added: "I mean, obviously he has, uh... it was a stunning election victory, in that he's someone who has not been involved in politics."
She has previously criticised his controversial comments about women as "unacceptable".
Interviewer Gaby Wood met Mrs May at 10 Downing Street a few days after the Washington visit.
The magazine claimed Mrs May had transformed the London address "from a gentlemen's club into a boardroom" by replacing David Cameron's wingback armchairs with a glass-topped business table.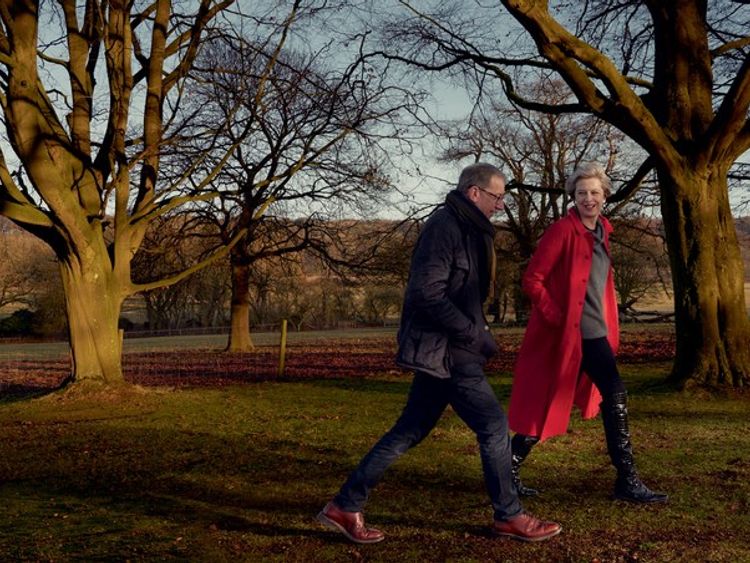 Discussing home life with banker husband Philip, she revealed their most common argument was over what to watch on TV - he prefers history programmes while she wants to view crime drama NCIS.
She also said: "I cook, and he puts everything in the dishwasher."
Mrs May also revealed Philip had surprised her by making "a very good mushroom risotto" since her busy schedule as PM left her less time for the kitchen.
The couple have been photographed for the article by world famous snapper Annie Leibovitz.
Despite some in the media appearing to be obsessed with her shoes, Vogue described Mrs May's style as "decidedly no-drama" and said she operated under "a carefully preserved carapace of conformity".
SKY News.