The British government has announced a cabin baggage ban on laptops on certain direct passenger flights to the UK from Turkey, Lebanon, Jordan, Egypt, Tunisia and Saudi Arabia.
The ban, which also applies to tablets and DVD players, follows a similar US move affecting eight countries.
Downing Street said it followed talks on air security and was "necessary, effective and proportionate".
US officials said bombs could be hidden in a series of devices.
The ban applies to any device larger than 16cm long, 9.3cm wide or 1.5cm deep. It includes smart phones, but most fall inside these limits.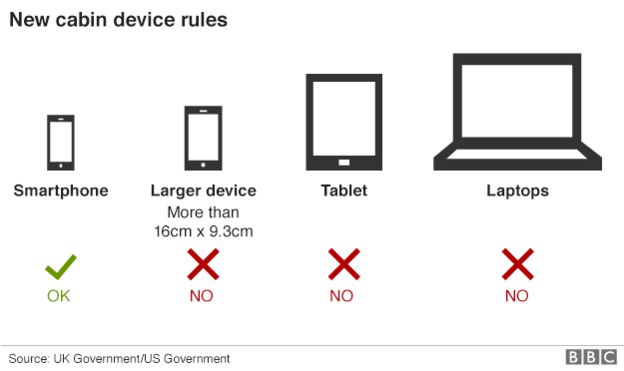 Any affected device, which also includes e-readers, will need to be placed into hold luggage and checked in before passengers go through airport security.
Number 10 said it was up to individual airlines to decide when to begin enforcing the ban and passengers should contact their airline for more information.
The government listed 17 carriers that would be subject to the restrictions.
Which airlines are affected?
Six UK carriers:
British Airways
EasyJet
Jet2.com
Monarch
Thomas Cook
Thomson
Eight overseas carriers:
Turkish Airlines
Pegasus Airways
Atlas-Global Airlines
Middle East Airlines
Egyptair
Royal Jordanian
Tunis Air
Saudia
BBC News.