Germany's Christian Democrats (CDU) have unseated the Social Democrats in a key state election, exit polls say.
Chancellor Angela Merkel's CDU is projected to win 34.5% of votes in North Rhine-Westphalia, compared with 30.5% for the Social Democrats (SPD).
It was seen as a test for Mrs Merkel ahead of September's general election.
The SPD has run the state - Germany's most populous - for most of the post-war period. Party leader Martin Schulz said it was a "hard day".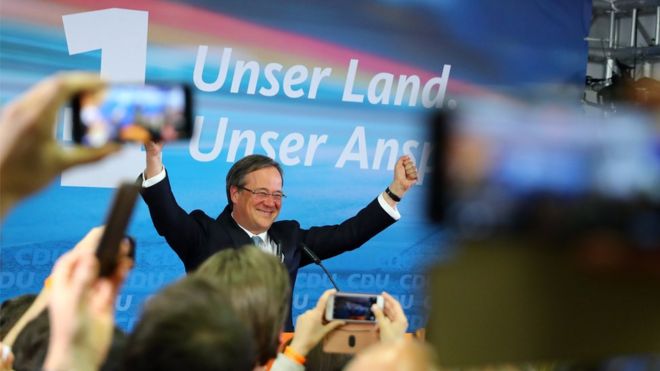 Armin Laschet
Voters were choosing candidates for the state legislature, whose leadership may now change from its current SPD-Green coalition.
The SPD's vote is said to be down by 8.6 percentage points on the last election there in 2012, while the CDU vote is up by almost the same amount.
Mr Schulz had predicted a victory there would make him the next German chancellor - but the victory for Mrs Merkel's party will now give her a boost as she seeks a fourth term.
The first exit polls also predict 12% for the liberal Free Democratic Party (FDP); 6% for the Greens; 7.5% for the far-right Alternative for Germany (AFD); and 5% for The Left.
BBC News.