US President Donald Trump has fired the director of the FBI over his handling of the inquiry into Hillary Clinton's emails, the administration says.
The White House shocked Washington by announcing that James Comey "has been terminated and removed from office".
The move came as it emerged Mr Comey gave inaccurate information to Congress last week about Mrs Clinton's emails.
An FBI investigation into her use of a private email server to store sensitive information while secretary of state remains closed. Mr Comey said in July last year it was careless but not criminal.
The White House said the search for a successor for Mr Comey would begin immediately. In a tweet on Wednesday morning, Mr Trump said Mr Comey would be replaced "by someone who will do a far better job, bringing back the spirit and prestige of the FBI".
It is only the second time the head of the FBI has been fired.
In the final days of the presidential campaign, Mr Trump told a rally it "took guts" for Mr Comey to reopen the inquiry. "What he did brought back his reputation," Mr Trump said.
But on Tuesday, Deputy Attorney General Rod Rosenstein said he "cannot defend the director's handling of the conclusion of the investigation of Secretary [of State Hillary] Clinton's emails, and I do not understand his refusal to accept the nearly universal judgement that he was mistaken".
"Almost everyone agrees the director made serious mistakes; it is one of the few issues that unites people of diverse perspectives."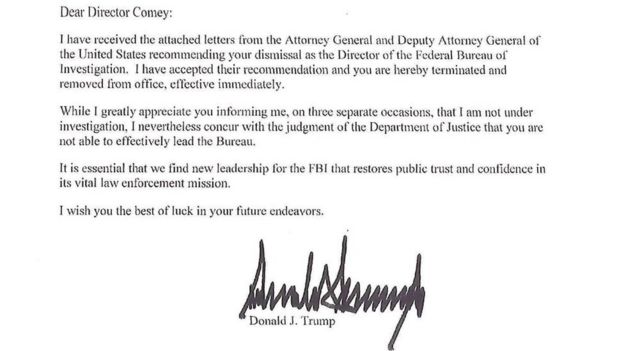 Mr Rosenstein also said:
Mr Comey had been wrong to "usurp" the previous attorney general in July 2016 when he announced the Clinton emails inquiry should be closed without prosecution
That he had compounded his error by "gratuitously" releasing "derogatory information" about Mrs Clinton
Mr Comey was addressing FBI agents in Los Angeles when, according to US media, he learned he had just been fired when he saw the news on television.
The 56-year-old - who was three-and-a-half years into his 10-year term as FBI director - reportedly laughed, thinking it was a prank.
BBC News.