Iranians are voting in a presidential election in which moderate incumbent Hassan Rouhani is expected to face tough competition from a hardline rival.
But his main opponent Ebrahim Raisi, 56, has campaigned as a friend of the poor and called for a tougher line with the West.
Mr Rouhani has appealed to voters to prevent the leadership going to a hardliner, saying: "One wrong decision by the president can mean war and a correct decision can mean peace."
One of the main election issues is the future of Iran's relationship with the rest of the world, especially the US.
Mr Rouhani will have been relieved when the Trump administration agreed to stick with the nuclear deal for now.
The 2015 deal, previously criticised by Donald Trump, saw Iran's nuclear programme limited in exchange for the lifting of some sanctions.
It will not have escaped Mr Rouhani, however, that Mr Trump is visiting Iran's closest rival Saudi Arabia shortly and that the US President has also ordered a review of the controversial nuclear deal.
Mr Raisi has said he would keep the deal but that the average Iranian has yet to see its benefits, saying: "Instead of using the capable hands of our youth to resolve problems, they are putting our economy in the hands of foreigners."
The other main issue, and perhaps the most dominant during campaigning, is the economy.
Inflation has come down from around 40% since Mr Rouhani took over in 2013 but unemployment is still at 12.5%. For young people it is almost 30%.
He has promised to work towards getting the remaining US sanctions removed - but for this he relies on the cooperation of Mr Trump.
Ebrahim Raisi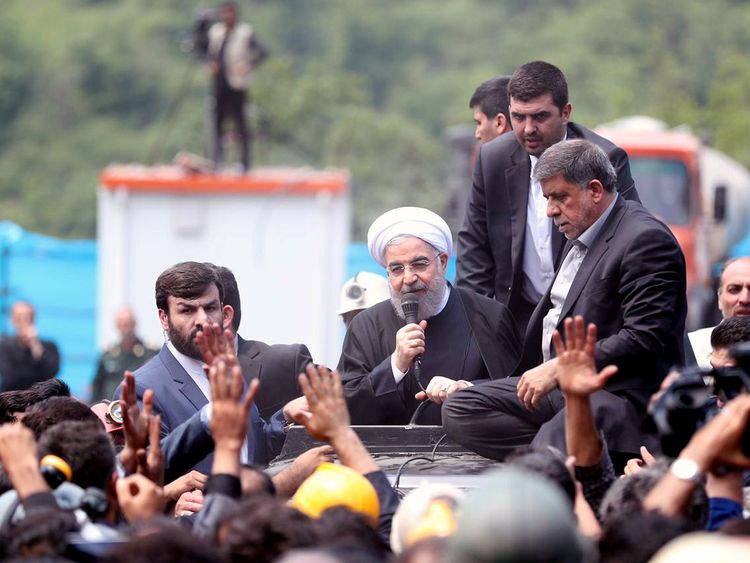 Hassan Rouhani
Mr Raisi, a law professor and former prosecutor, has promised to triple cash handouts to the poor.
Two other candidates are also running for the presidency - conservative Mostafa Mirsalim and the reformer Mostafa Hashemitaba - but they are not expected to get more than a fraction of the vote.
Iranian authorities expect turnout to exceed 70%.
SKY News.