William and Kate have reportedly asked for £1.3m (€1.5m) in damages from a French magazine over topless photos of the Duchess of Cambridge.
Cyril Moreau and Dominique Jacovides, two Paris-based agency photographers suspected of taking the pictures, must answer charges of invasion of privacy and complicity at the trial in Nanterre, outside Paris.
Laurence Pieau, Closer's editor in France, Ernesto Mauri, chief executive of the Mondadori group which owns the magazine, also face charges.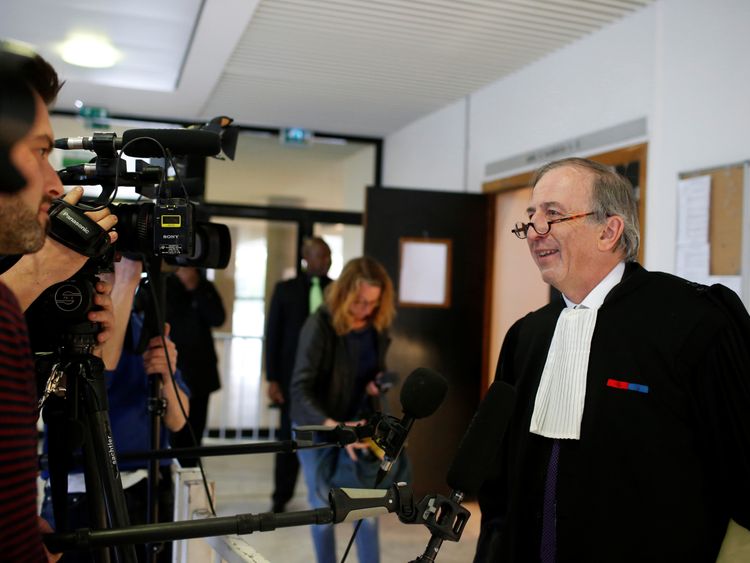 Closer magazine's lawyer Paul-Albert Iweins
Marc Auburtin, former publisher of the La Provence newspaper, which also published the photos, and photographer Valerie Suau, are also among the six people named in the complaint.
William and Kate, who filed the court complaint, did not attend the trial on Tuesday.
A lawyer for the royal couple called for "very large damages" over the long-lens shots taken during the couple's holiday in Provence at a chateau owned by the Queen's nephew, Viscount David Linley.
Closer magazine's lawyer Paul-Albert Iweins said the photos - which were published across Europe but not in the UK - show a "positive image of the couple".
He also denounced an "Anglo-Saxon reasoning of damages and interest" over the case.
A verdict is expected at a later date.
SKY News.