Court of Appeal judges in London have stuck two fingers up to Nestle's attempts to trademark the shape of its famous four-fingered KitKat bar.
The ruling is the latest twist in a decade-long UK chocolate wars saga between Nestle and Cadbury.
The Dairy Milk maker failed in its own attempt to trademark the shade of purple it uses after Nestle complained.
But on Wednesday, it was the Cadbury bosses celebrating the latest attempt to foil KitKat's plans.
Nestle claimed that the shape of the bar was so unique, it should be protected by law.
But time after time, judges have thrown out the attempt.
Its case was not helped by the existence of a similar Norwegian bar, called Kvikk Lunsj, which means "quick lunch" and has been around since 1937.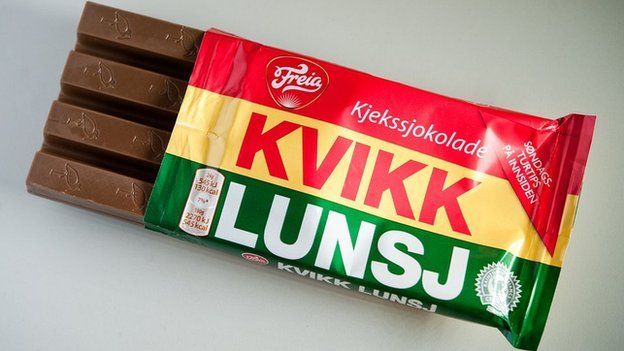 Norway's "Kvikk Lunsj" looks similar to the KitKat and is available in some parts of the UK
A spokesperson for Nestle said the company was weighing up its options.
"Nestle is disappointed by the Court of Appeal judgment and is considering next steps.
"KitKat is much loved around the world and its four-finger shape is well known by consumers.
"Nestlé's four-finger shape has been granted trademark registration in many countries of the world, for instance Germany, France, Australia, South Africa and Canada, further protecting it from imitations."
BBC News.