South Korea's former President Park Geun-hye has pleaded not guilty at her trial for corruption, the latest stage in her dramatic fall from grace.
The ousted president faces charges including bribery, abusing state power and leaking state secrets.
In her first appearance in public since her arrest in March, she arrived at court handcuffed in a prison van.
The maximum sentence for corruption in South Korea is life.
Ms Park is accused of colluding with her friend, Choi Soon-sil, to extort money from some of South Korea's biggest companies, including Samsung, in return for political favours.
Ms Choi Soon-sil, who is also facing charges, sat alongside Ms Park at the opening of the trial. She also denies wrongdoing.
As the trial opened in Seoul, the ex-president's lawyers said there was "no reason for President Park to force companies to donate money which she was unable to use for herself".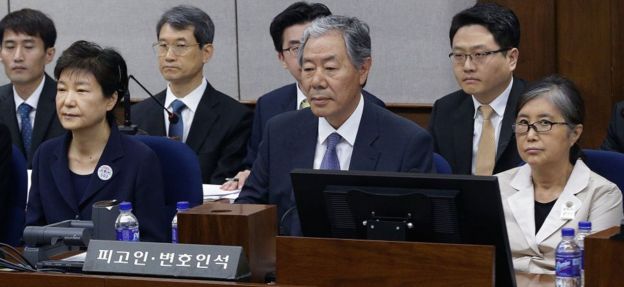 BBC News.