The US has made a complaint to Turkey after violence erupted between protesters and Turkish security personnel in Washington, DC.
Two people were arrested and 11 were injured in protests outside the Turkish ambassador's residence amid President Recep Tayyip Erdogan's visit.
Video footage of the clash on Tuesday showed men in suits charging past police to kick and punch protesters.
Police called the violence a "brutal attack on peaceful protesters".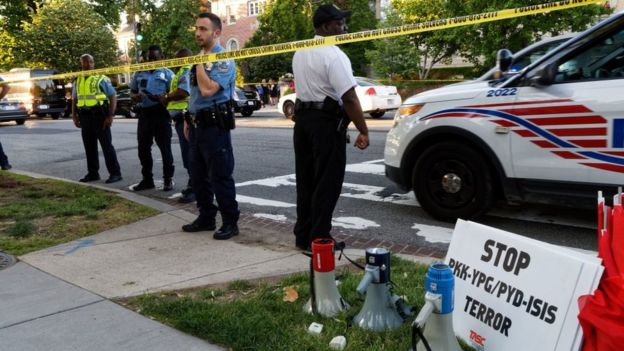 But the Turkish Embassy said the demonstrators were aggressively provoking Turkish-Americans who had gathered to greet the president, and they in turn responded in self-defence.
The US State Department released a statement saying it was "concerned by the violent incidents" and confirmed Turkish security guards were involved.
"Violence is never an appropriate response to free speech, and we support the rights of people everywhere to free expression and peaceful protest," the statement read.
"We are communicating our concern to the Turkish government in the strongest possible terms."
Mr Erdogan, who met President Donald Trump earlier in the day, was visiting Turkish ambassador Serdar Kılıç's residence when the scuffle broke out.
BBC News.