Syrian President Bashar al Assad appears to be preparing a fresh chemical weapons attack, the US has claimed.
It warned the use of chemical weapons "would likely result in mass murder of civilians, including innocent children", adding that Assad and his military would "pay a heavy price".
The White House did not provide evidence to back up the claim.
Nikki Haley, US ambassador to the UN, tweeted that any further chemical attacks "will be blamed on Assad, but also on Russia & Iran who support him killing his own people".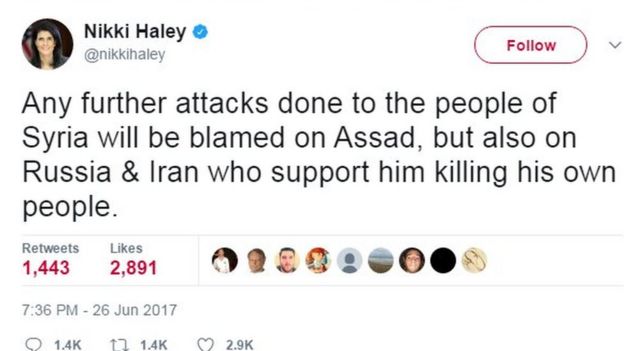 Moscow dismissed the US warning.
President Vladimir Putin's spokesman, Dmitry Peskov, said: "Such threats to Syria's legitimate leaders are unacceptable."
SKY News.