Heavy monsoon rain has triggered landslides in south-east Bangladesh, with officials reporting at least 61 people died, including five soldiers.
Hills collapsed in three districts in Chittagong after some of the heaviest rain in recent years.
Rescue operations are being hampered by bad weather and officials told the BBC they feared the death toll would rise.
Telecommunication links and electricity have been cut off, and some communities cannot be contacted.
"We have not been able to reach many of the affected places," Reaz Ahmed, head of the Department of Disaster Management, told AFP.
"Once the rains are over, we'll get a full picture of the damage and get the recovery work in full swing," he said.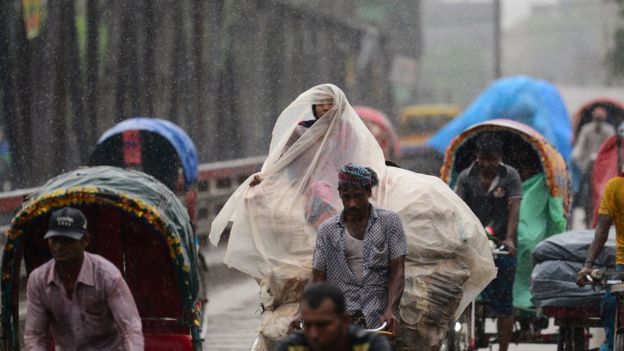 Several people died in Rangamati district, a hilly area close to the Indian border, when landslides buried their houses.
The soldiers who died had been clearing a road in Rangamati of an earlier landslide when another one hit, a military spokesman told AFP news agency.
Traffic in the capital Dhaka and Chittagong, Bangladesh's major port city, has also been disrupted by the torrential rains.
BBC News.