A WhatsApp message from Boris Johnson urges other top Tories to "calm down" and back the Prime Minister.
It was apparently sent on Sunday morning, following two days of speculation over whether Theresa May would be able to cling to power and if not, whether Mr Johnson is plotting to make a bid for the top job.
On Sunday evening, he told reporters: "I'm going to be backing her - absolutely everybody I'm talking to is going to be backing her as well."
Mr Johnson also said Theresa May was the "best" person, before quickly correcting himself to say the "best-placed person", to deliver on Brexit.
In the WhatsApp group, Mr Johnson had told fellow MPs they "need to calm down and get behind the prime minister".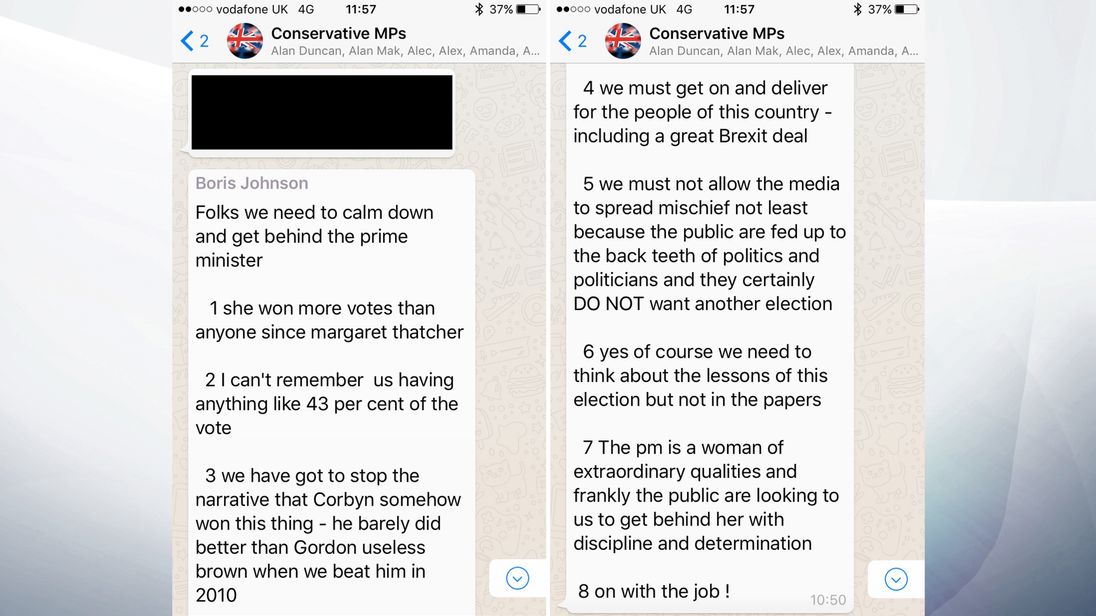 He wrote that the Prime Minister had won more votes than anyone since Margaret Thatcher - telling his colleagues: "I can't remember us having anything like 43 per cent of the vote."
He told the MPs that the Tories "have got to stop the narrative that Corbyn somehow won" the election, writing: "He barely did better than Gordon useless brown when we beat him in 2010."
Mr Johnson continued: "We must get on and deliver for the people of this country - including a great Brexit deal."
He also warned fellow Conservatives that the media must not be allowed to "spread mischief", writing: "The public are fed up to the back teeth of politics and politicians and they certainly DO NOT want another election."
SKY News.