Sebastian Vettel was penalised for driving into Lewis Hamilton in a chaotic and incident-packed Azerbaijan Grand Prix but the German still extended his title lead as a loose head restraint cost the Briton victory.
A remarkable race that featured three safety cars and several crashes, including clashes between team-mates, was won by Red Bull's Daniel Ricciardo.
Daniel Ricciardo
Vettel was given a 10-second stop-go penalty for swerving into Hamilton's Mercedes as they prepared for a re-start at the end of one of three safety car periods.
But the time Hamilton lost being forced to pit for a new head restraint put him behind Vettel. He followed him past a number of cars as they recovered positions, and closed up as the race entered its final lap, but the Englishman was not able to pass.
Hamilton ended up finishing fifth, a place behind Ferrari's Vettel, and lost two points to the German. He is 14 points behind after eight of 20 races.
Hamilton's Mercedes team-mate Valtteri Bottas, who was last and lapped after the first lap, passed Williams driver Lance Stroll for second on the final straight as the 18-year-old Canadian scored his first podium in his eighth race after a mature drive.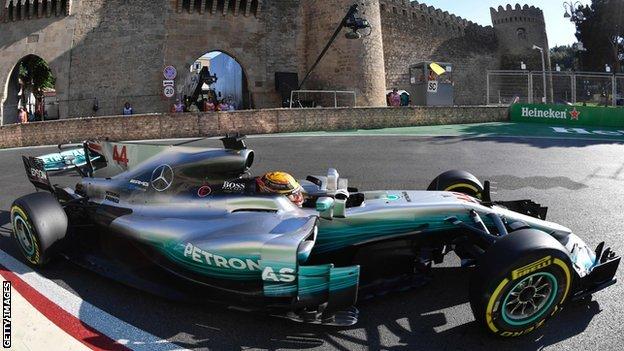 Hamilton
BBC News.