Crowds at one of Germany's biggest music festivals have been evacuated because of "concrete leads" of a possible terror threat.
Security had been stepped up at the festival in the wake of
the Manchester bomb attack,
according to police.
These included body searches and a ban on rucksacks and bags, while around 1,200 police officers were on duty at the event.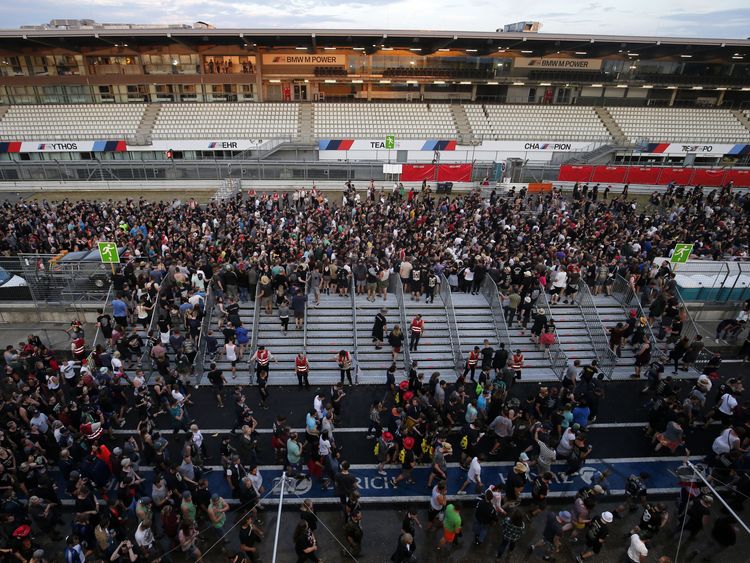 Koblenz police said the event had been suspended due to "concrete leads, which do not allow us to eliminate a possible terror threat".
It added: "We are currently conducting a very intense investigation."
Journalists were told of concerns about a person, who had been involved in the festival preparations, including erecting the security fences.
The festival was expected to welcome up to 90,000 visitors with German hard rock giants Rammstein set to perform later on Friday night, before the security alert led to the plug being pulled.
The British singer-songwriter Rag'n'Bone Man had been on stage earlier in the day.
The organisers used loudspeakers to inform the concert-goers about the possible threat.
"We hope it will continue tomorrow. Please head to the exits," they said.
Leaving the site calmly, people sang You'll Never Walk Alone.
Festival organiser Marek Lieberberg said the grounds were clear by 9.30pm about a half hour after people were told that they were going to have to leave.
"The public reacted fantastically," he added.
He hoped the annual three-day festival would be able to restart on Saturday, but this was yet to be confirmed.
Overall, some 85 bands were scheduled to play on four stages over the weekend with Germany's Toten Hosen headlining Saturday's bill and California's System of a Down due to perform on Sunday.
SKY News.