Seven US Navy sailors are missing after their destroyer collided with a container ship near Japan.
"We're going all out to find the missing people, but we still haven't found any clues about where they might be," a coastguard spokesman said.
At least three compartments of the USS Fitzgerald are reported to have flooded after the collision with the Philippine vessel ACX Crystal 56 miles southwest of Yokosuka.
All 20 crew members of the cargo vessel are said to be safe, with the ship only suffering minor damage.
Commander Bryce Benson, Fitzgerald's commanding officer, was evacuated from the ship and taken to US Naval Hospital in Yokosuka where he is in a stable condition.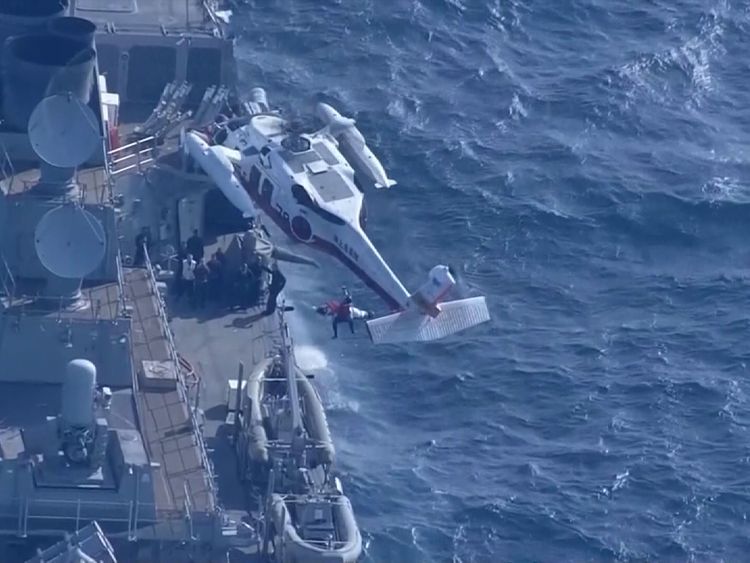 Two more sailors have also been taken by helicopter to hospital for what the US 7th Fleet said were "lacerations and bruises".
Other injuries are being assessed and the Japanese Coast Guard is searching for the seven missing sailors.
More than 200 sailors would have been asleep on the ship at the time of the collision.
Coast Guard official Takeshi Aikawa said no damage or injuries had been reported with regards to the 29,060-tonne container ship and its crew.
In a statement, the Navy said the USS Fitzgerald had "suffered damage on her starboard side above and below the waterline" in the accident on Friday evening UK time.
It added that the ship was operating under its own power, "although her propulsion is limited".
Admiral Scott Swift, commander of the US Pacific Fleet, said: "Right now we are focused on two things: the safety of the ship and the well-being of the sailors.
"We thank our Japanese partners for their assistance."
SKY News.