Charlie Gard's parents have withdrawn their application to take their terminally ill son to the US for treatment.
Barrister Grant Armstrong said the experimental treatment the family had been pursuing no longer offers any chance of improving Charlie's condition.
He explained that Charlie's parents had made the decision to end their legal fight after reviewing the latest medical reports and scans from Great Ormond Street Hospital (GOSH).
Ms Yates told the court: "We only wanted to give him a chance of life."
Outside, supporters reacted with anger and tears - chanting "shame on you judge" and "shame on GOSH".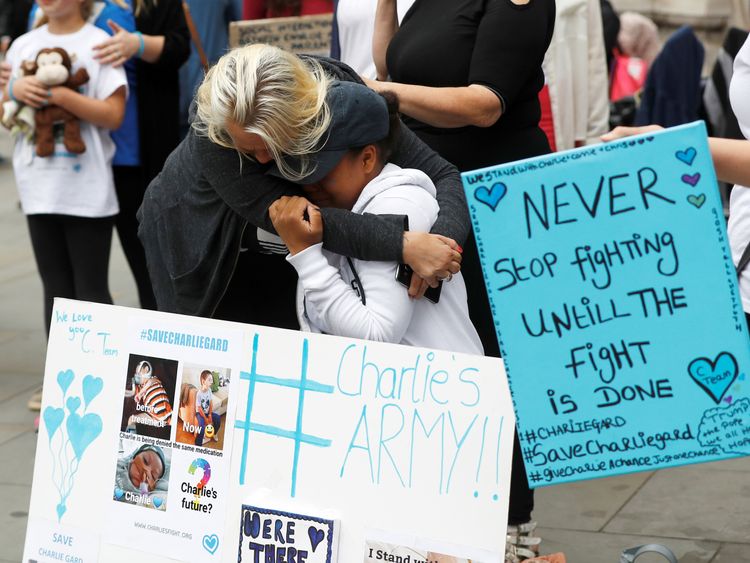 Charlie suffers from a rare genetic condition which causes progressive muscle weakness. He also has brain damage.
Mr Armstrong told the court that the damage to Charlie's muscle and tissue had become irreversible, adding: "The parents' worst fears have been confirmed. It is now too late to treat Charlie."
He urged Mr Justice Francis to consider whether the power of parents should be increased in future cases, as the delay caused by the legal battle had meant the chance of treating Charlie was lost.
Ms Yates said she will now never know what would have happened if her son had been allowed to receive treatment in the States.
The High Court, Court of Appeal and Supreme Court in London had all ruled against Charlie's parents in recent months, with judges at the European Court of Human Rights refusing to intervene.
GOSH had argued that the experimental therapy would not have helped improve Charlie's condition, and said the baby's life support treatment should end - allowing him to die peacefully and with dignity.
The case won international attention, with Ms Yates and Mr Gard receiving support from Pope Francis and US President Donald Trump.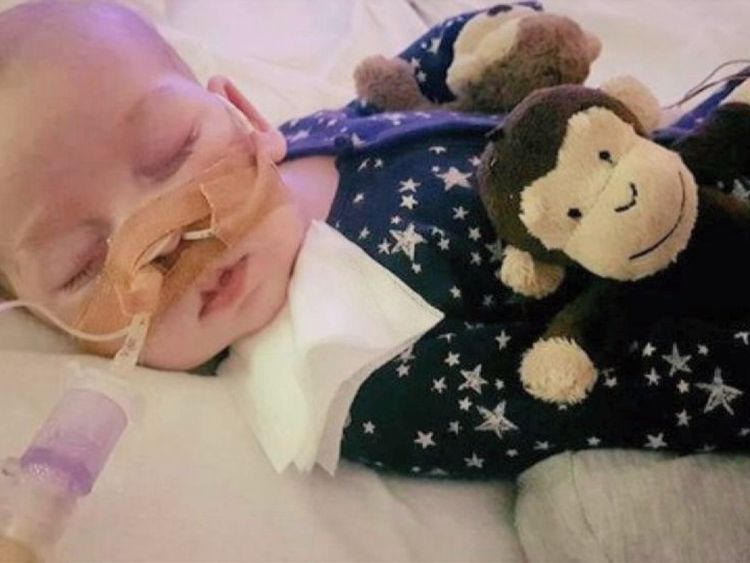 Through their lawyer, Charlie's parents said they now plan to treasure the short time they have left with him.
In light of their decision, they are planning to hold discussions with GOSH about the immediate future.
Mr Justice Francis paid tribute to the mother and father in court, telling them no one could comprehend their agony.
SKY News.