A fully electric version of the Mini is to be built at BMW's plant in Cowley, near Oxford, the carmaker has announced.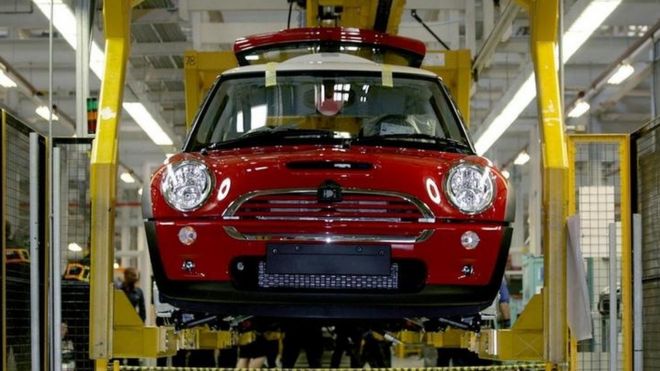 Its electric drivetrain - which is comprised of a collection of components in a vehicle that transfer power from the transmission to the wheels - will be built in Bavaria, before being integrated into the car at the Cowley site.
The announcement is a vote of confidence for the 4,500-strong workforce at the UK plant in the run up to Brexit - and comes just weeks after
staff voted to accept a new pensions offer
following a series of strikes.
Len McCluskey, general secretary of Unite, described the move as "a huge and totally deserved boost to a world-class workforce that has endured a tough few months".
"Around the world and for generations, the Mini means made in Britain. With the electric Mini being built in Cowley, the tradition continues but with the added bonus that this is one of the important innovations of tomorrow."
Business Secretary Greg Clark added: "The automotive industry is a great British success story and the Mini is a big part of that.
"UK car production hit a 10 year-high last year, with 1.7 million cars made and over 800,000 people employed across the wider industry.
"We want to see the sector continue to innovate and grow here in the UK, supported by initiatives such as
the new battery institute
as part of our Industrial Strategy."
BMW said it did not ask for or receive any assurances from the Government before making its decision.
in a statement from Munich, the firm said that electrification was one of the central pillars of the group's corporate strategy and that additional electric models would be launched in the coming years and beyond 2020.
All of its models were able to be electrified, with a full electric or plug-in hybrid drivetrain being offered in addition to a combustible engine.
It expects electric models - which it manufactures at 10 plants across the world - to account for between 15% and 25% of sales by 2025.
SKY News.