Eighteen people are believed to have died when their tour bus crashed and burst into flames on the A9 motorway in southern Germany, police say.
The bus was in a collision with a lorry near Stammbach in north Bavaria.
Thirty people escaped the fire, some critically injured. The bus was carrying German pensioners from Saxony.
Rescue helicopters joined emergency workers at the scene. The bus was burning fiercely when they reached it. It is not clear why the bus crashed.
Traffic was reportedly moving slowly at the time. There were 46 passengers and two drivers on the bus. One driver was among those killed.
Chancellor Angela Merkel said she was distressed by the accident and expressed sympathy for the injured and bereaved relatives.
She thanked the rescuers for looking after people "in an appalling situation".
Bavaria's Interior Minister Joachim Herrmann has arrived at the crash site.
A police spokesman told German news channel n-TV that there were good medical facilities in Bayreuth, not far from the scene.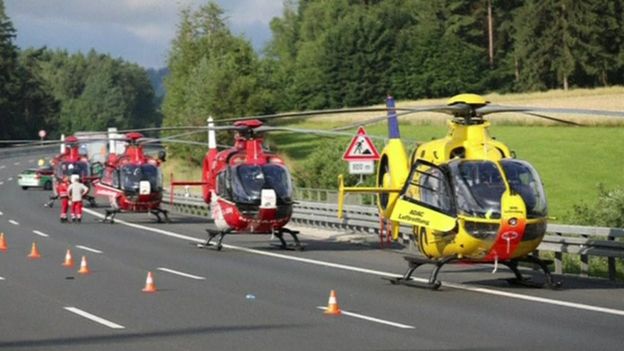 BBC News.