Britain's Navy has been declared "on the rise again" as the first steel was cut for a new fleet of warships.
HMS Glasgow was christened by Defence Secretary Michael Fallon at a ceremony in the city it was named after.
The anti-submarine Type 26 frigate will be the first one built and eventually be the length of 15 buses.
It will feature two sonar, a medium-calibre gun, an air defence tower and an "acoustically quiet hull" - coming in at £1.23bn per boat.
At top speed, the cutting-edge vessel will travel 26+ knots, or just under 30 mph. It will carry a crew of 118 and has a range of 7,000 nautical miles.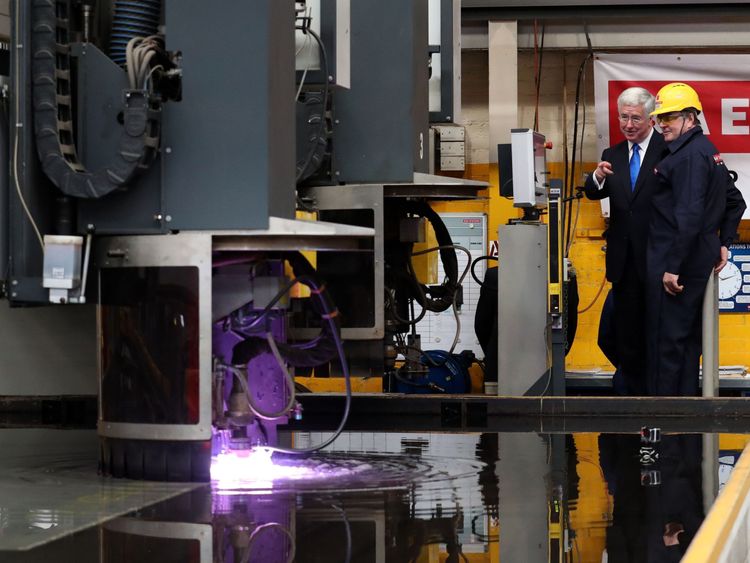 Three ships have been commissioned so far, with a contract for the further five negotiated in the mid-2020s.
The Ministry of Defence declared the work would "support and sustain" 3,400 jobs.
Speaking at arms firm BAE System's shipyard in Govan, Mr Fallon promised the warships would "maintain our naval power with a truly global reach".
He said: "Today marks a historic milestone for the Royal Navy, Scottish shipbuilding and UK defence more widely.
"HMS Glasgow and the other seven frigates in this new class will protect our powerful new aircraft carriers and nuclear deterrent, helping keep Britain safe across the world.
The boats are expected to have a service life of 25 years and could be sold on to other countries as exports.
Australia has already expressed an interest in them, the MoD said.
The First Sea Lord, Admiral Sir Philip Jones, also spoke at Thursday's ceremony to hail the symbolic importance of the boats.
SKY News.