Seventeen journalists and managers at Turkish opposition newspaper Cumhuriyet went on trial on Monday on charges of aiding a terrorist organisation.
If found guilty this week, they could face sentences of up to 43 years in jail. Ten have already been in pre-trial detention for almost nine months.
At the Istanbul courthouse a large crowd of supporters let off balloons and called for their release.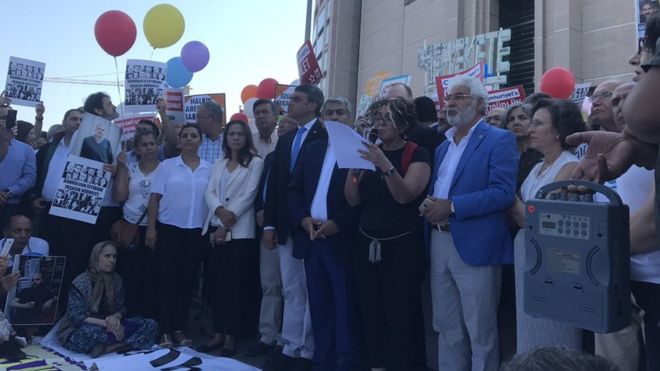 There was chaos as they tried to enter the court for the start of the trial.
As the trial got under way in the packed courtroom, veteran Cumhuriyet columnist Kadri Gursel told the court that all the allegations against him were false and methods used to build the case against him illegal.
Supporters of the accused are adamant the trial is political.
"All I can say is that this is a political case. They are held for being journalists, for doing their jobs," says Elif Gunay, whose father Turhan Gunay is editor-in-chief of the newspaper's book supplement.
"I cannot touch him. I cannot hug him," says Elif, who is allowed to visit her father once a week, for an hour.
"We talk over the phone behind a glass. When the time is up, they cut the line.
"It is so frustrating to be taken away from him every week."
She says her father, now 71, has been through various health problems, including atherosclerosis (a hardening of the arteries) followed by an operation.
"But even that was not enough for him to be released on bail," she complains.
BBC News.