The US government has imposed sanctions on 13 senior Venezuelan officials as pressure mounts on President Nicolás Maduro ahead of a controversial vote for a new constituent assembly.
The sanctions freeze the US assets of those affected, and stop US entities from doing business with them.
Those targeted include the interior minister and the head of the army.
Last week, President Donald Trump vowed "strong and swift economic actions" if Mr Maduro held the poll, due on Sunday.
"Who do these imperialists in the United States think they are?" Mr Maduro said on Wednesday. "The government of the world?"
He also called the sanctions "illegal, insolent and unprecedented".
The vote, which Venezuela says will proceed as planned, is to choose the 545 members of a new constituent assembly that would rival the opposition-held National Assembly.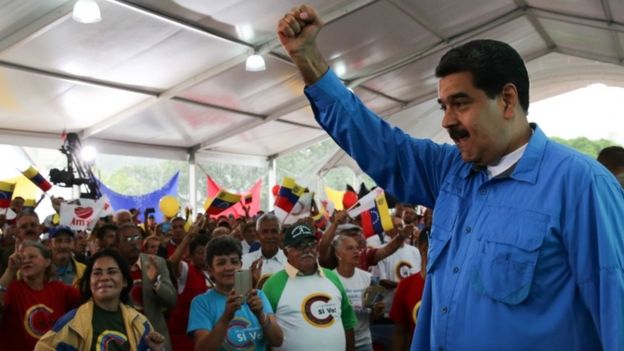 President Nicolas Maduro has vowed to hold the vote despite international criticism
BBC News.