Negotiators from the National Liberation Army (ELN) rebel group say they have agreed a temporary ceasefire with the Colombian government.
It is the first time the two sides have agreed a ceasefire in more than 50 years of conflict.
The announcement comes less than 48 hours before Pope Francis is due to visit Colombia.
Colombian President Juan Manuel Santos said the truce would begin on 1 October and would last until 12 January.
In a tweet in Spanish, the ELN wrote: "Yes we could! We thank all of those who backed our efforts to reach this #BilateralCeasefire."
And in another statement, the rebel group said that "the visit of Pope Francis should provide extra motivation to speed up the search for an agreement".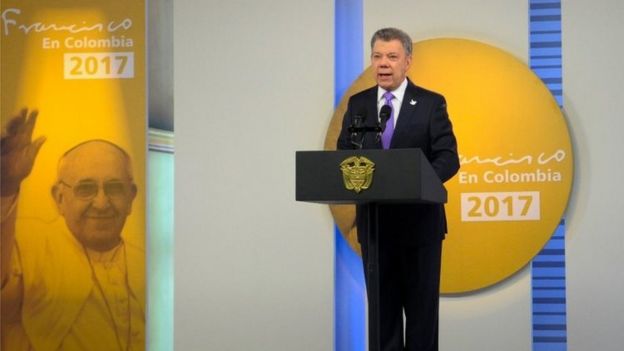 President Santos said the truce could be extended beyond its current 12 January deadline
Meanwhile, President Santos said in a televised speech that the "the priority is to protect citizens, so during this period, kidnappings, attacks on oil pipelines and other hostilities against the civilian population will cease".
He added that there was a chance the ceasefire, which would initially last for 102 days, could be extended beyond its current deadline.
BBC News.