A chance alert by a local tradesman has exposed a terror-linked bomb plot to target banks, French Interior Minister Gérard Collomb has revealed.
Police were called on Wednesday to a flat in the southern Paris suburb of Villejuif, where they found 100g of TATP explosives and chemicals.
Three men have been arrested.
The interior minister said the suspects had denied any terrorist motives but he added that they had been in phone contact with people in Syria.
"They wanted to blow up banks with the TATP, but what we're seeing is that they were linked to terrorists, so it's more in that direction that we have to look," he told FranceInfo TV.
TATP (triacetone triperoxide) has been widely used in jihadist attacks because it is relatively easy to produce.
The explosives would have been used to target counters inside the banks for cash, Mr Collomb added.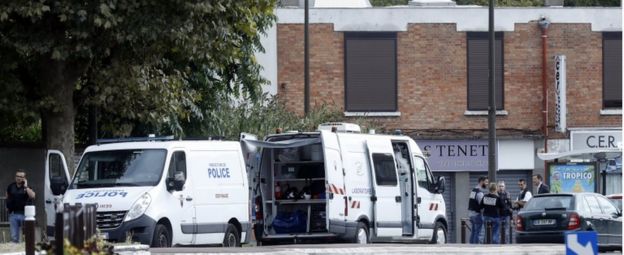 BBC News.