Australia's centre-right government has lost its majority after the deputy prime minister was declared ineligible for parliament.
The crisis relates to a previously obscure 116-year-old law barring dual citizens from sitting in parliament.
Mr Joyce said: "I respect the verdict of the court.
"It's a pretty simple story - we're off to a by-election.
"I had no reason to believe that, you know, I was a citizen of any other country than Australia. That is the way it is.
"Now I am going to make sure that I don't cry in my beer."
The court's decision means the Liberal-led coalition government loses its one-seat majority in the lower House of Representatives as it awaits the by-election for Mr Joyce's seat in December.
Mr Joyce will be able to stand for re-election, however, having renounced his New Zealand citizenship since the last election. He is expected to win.
Four of the other six senators were also ruled ineligible from sitting in parliament, including government minister Fiona Nash, who inherited British citizenship through her father.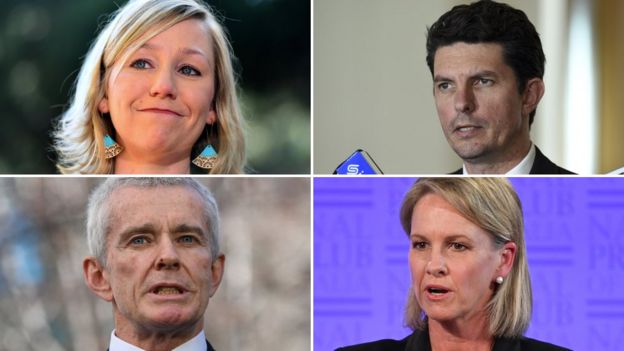 from top left) Larissa Waters, Scott Ludlam, Fiona Nash and Malcolm Roberts
The others were the Greens' Larissa Waters and Scott Ludlam and One Nation's Malcolm Roberts.
All said they had not been aware of their dual citizenship when they ran for election.
SKY News.