The widow of a murdered former Royal Navy Officer has described the "overwhelming grief" which has haunted her since his death.
The couple were woken in April as Gibbons, 29, broke into their £450,000 house in Chorlton, south Manchester, snatching the keys to their Audi A3 sports car from the kitchen table.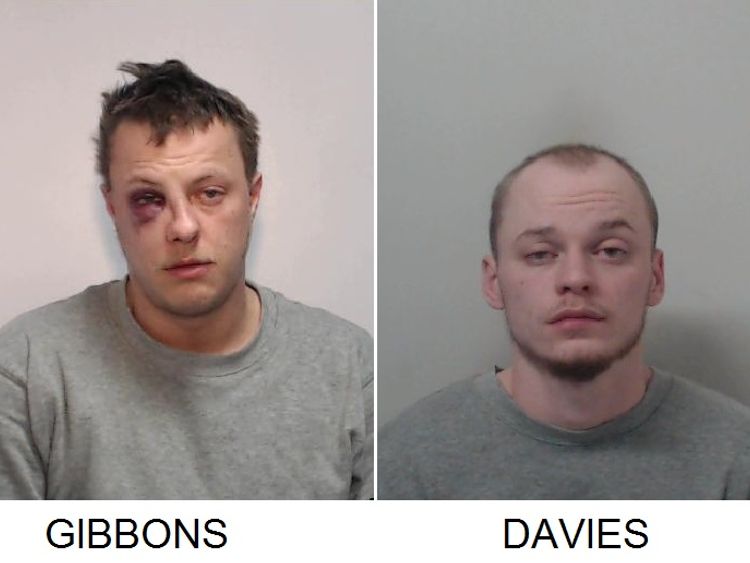 Ryan Gibbons (L) was convicted of murder and Raymond Davies of manslaughter
Gibbons claimed he didn't see Mike Samwell but heard "screaming" and thought, "something had gone under the wheel" before speeding off.
Ahead of sentencing, Jessica Samwell read a poignant victim impact statement at Manchester Crown Court describing how her husband had been "mindlessly and brutally killed."
She explained: "It feels like no-one will ever understand. The last image I have of Mike lying on the ground, groaning in pain, holding his hand will stay with me for the rest of my life."
Breaking down at times she said that the memory of the night had left her with panic attacks and that she is unable to return to work or their family home.
She said: "There are no words that can truly express how the loss of Mike has affected me.
"I feel overwhelming grief for the future we will never have, the birthdays and anniversaries, and to think of the children we will never share is devastating.
"The loss of such a caring, loyal and warm man who supported me for 10 years is too much to bear. The hole he's left becomes even more tangible," she added.
"I now know the days get harder, the physical pain, loss and longing for Mike has not ended. The loss of Mike has felt catastrophic," she said.
Sentencing father of four Ryan Gibbons, 29, to life in prison with a minimum of 27 years behind bars for murder, the judge rejected his account of what happened saying he deliberately ran over Mike Samwell.
Mr Justice William Davis told Gibbons: "You are a dangerous young man, you are a regular burglar and on this occasion, to get what you wanted, you quite ruthlessly killed a man."
Raymond Davies, 21, of Castlefield Walk, Manchester, who drove Gibbons and two other men, who have not been caught by police, to the address to steal the car, was sentenced to 8 years for manslaughter.
SKY News.