At least 40 people have been killed and dozens more wounded following multiple blasts at a Shia cultural centre in Kabul.
Islamic State said it directed the attacks, and claimed through its propaganda outlet Amaq that it targeted the centre with three bombs followed by a suicide bombing.
Attackers then stormed inside and further blasts were heard in the cultural centre's basement, the interior ministry suggested.
At least 56 people were also wounded during the attack.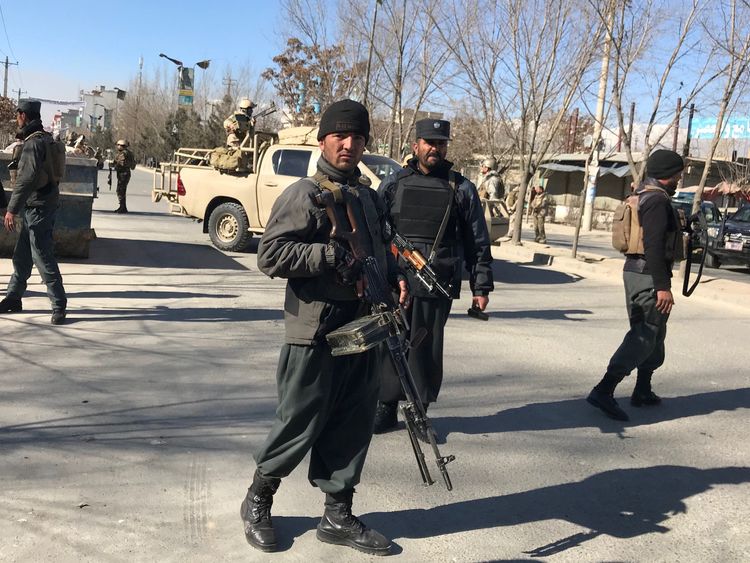 Shia Muslims were inside the cultural centre to commemorate the December 1979 invasion of Afghanistan by the former Soviet Union, according to Mr Danish.
The Taliban quickly denied any involvement in the attacks, and has not typically singled out Shia Muslims for attacks in the course of its insurgency in the Sunni-majority nation.
The cultural centre is located in a Shia neighbourhood in the west of Kabul and was hosting a morning panel discussion.
IS affiliate fighters have been active in the country, targeting the Afghanistan's Shia minority population which the group considers apostates.
The president of Afghanistan, Ashraf Ghani, described the attacks as a "crime against humanity" in a statement released by the presidential palace.
He said: "The terrorists have killed our people. The terrorists have attacked our mosques, our holy places and now our cultural centre."
President Ghani said the attacks were against Islam and "all human values".
On Twitter, Taliban spokesperson Zabihullah Mujahid said the attack had "nothing to do with" the organisation, which they claimed was "very cautious" not to target media centres and education facilities.
SKY News.