A Canadian billionaire and his wife have been found dead at their home in Toronto in circumstances that police described as "suspicious".
The bodies of Barry Sherman and his wife Honey were found in the basement by an estate agent, reports said.
Mr Sherman was the founder and chairman of pharmaceutical giant Apotex, which sells generic medicines around the world.
He was one of Canada's richest men and a prominent philanthropist.
There was no sign of forced entry to the property, police said in a statement Friday evening. Local media reported that investigators were not searching for a suspect at this time.
Detective Brandon Price told Canadian broadcaster CBC that investigators were still trying to determine if there was foul play involved.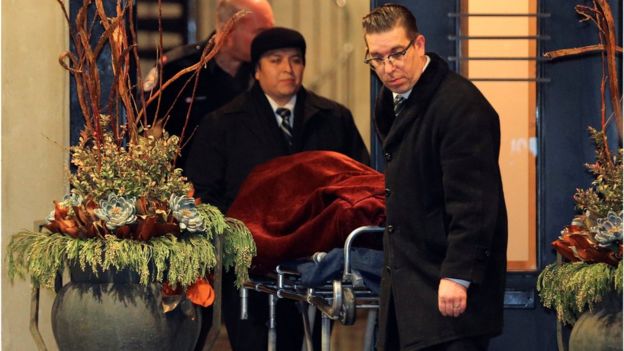 "I am beyond words right now," Ontario's Health Minister Eric Hoskins said on Twitter.
"My dear friends Barry and Honey Sherman have been found dead. Wonderful human beings, incredible philanthropists, great leaders in health care."
Senator Linda Frum presented the couple with a Canadian 150th anniversary medal in late November, awarded to Canadians for "generosity, dedication, volunteerism and hard work".
"Today I am gutted by the loss of Honey and Barry Sherman. Our community is steeped in grief. I am heartbroken," she said.
Prime Minister Justin Trudeau tweeted his condolences to the couple's family and friends.
Police gave few details and did not confirm the identities of the deceased. However, they were named locally by friends and by officials who reacted with shock at the news.
A police spokesman said emergency services were called to the house just before noon on Friday.
"The circumstances of their death appear suspicious and we are treating it that way," said Constable David Hopkinson.
BBC News.