Former Yemeni President Ali Abdullah Saleh has been killed amid fighting between his supporters and their former allies, the Houthi rebel movement.
Officials from Mr Saleh's General People's Congress party said he died in an attack south of the capital, Sanaa.
The Houthis' leader hailed the news as a "great and significant occasion".
Abdul Malik al-Houthi said it had foiled a "conspiracy" by a Saudi-led coalition backing the government, to whom Mr Saleh had made peace overtures.
Until last week, Mr Saleh's supporters had been fighting alongside the Houthis in a war against Yemen's current president, Abdrabbuh Mansour Hadi.
But longstanding political tensions and a dispute over control of the main mosque in the rebel-controlled capital, Sanaa, triggered fierce clashes that have left more than 125 people dead and 238 wounded since Wednesday night.
On Saturday, Mr Saleh offered to "turn a new page" with the Saudi-led coalition backing Mr Hadi if it stopped attacking Yemen and ended its crippling blockade.
The coalition and Mr Hadi's government welcomed the comments. But the Houthis accused Mr Saleh of staging a "coup" against "an alliance he never believed in".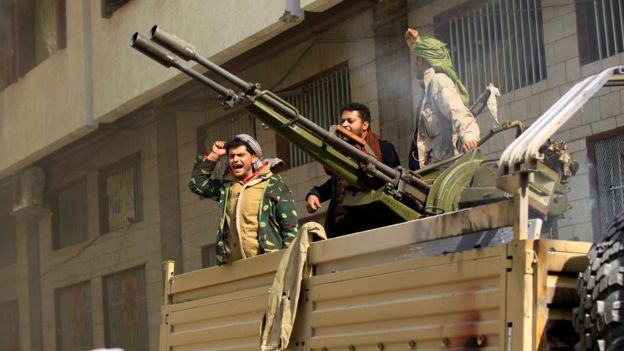 Houthi fighters attacked and took control of Mr Saleh's home in central Sanaa on Monday
BBC News.