German Chancellor Angela Merkel and her former centre-left partners are to meet again on Friday for more crucial coalition talks in an effort to end a political stalemate.
The negotiations with Social Democrats (SPD) leader Martin Schulz come after Mrs Merkel failed to form a three-party coalition deal last week.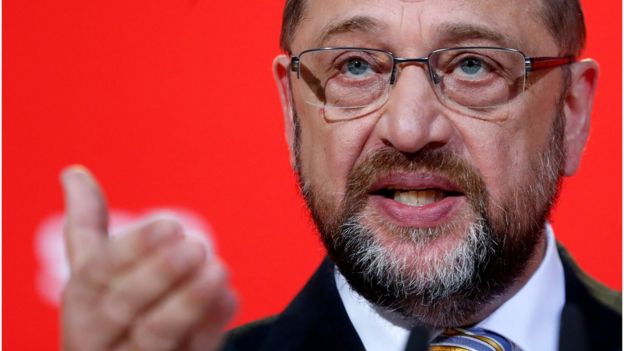 Mr Schulz
Any deal could take weeks to be reached.
The SPD governed in a "grand coalition" with Mrs Merkel between 2013 and 2017.
Held in Berlin at the invitation of President Frank-Walter Steinmeier, the talks began on Thursday and covered issues including housing, healthcare and migrants.
Under pressure, Mr Schulz agreed to hold discussions with Mrs Merkel's Christian Democrats (CDU) and her Bavarian allies, the Christian Social Union (CSU).
He had promised to take the SPD into opposition after September's election, when his party had its worst result since 1949.
BBC News.