London Zoo is shut "until further notice" after a fire which injured staff and killed an aardvark.
At its height, more than 70 firefighters tackled the fire which started in the Animal Adventure section and spread to the adjacent shop.
One person was taken to hospital and eight were treated at the scene for injuries.
The zoo said an aardvark, called Misha, had died in the fire and that four meerkats were unaccounted for.
The cause of the fire, which is now under control, is not yet known.
Ten fire engines were called to the zoo, which sits in the capital's Regent's Park, shortly after 06:00 GMT.
Six people were given help at the scene for the effects of smoke inhalation and two for minor injuries, London Ambulance Service said.
One person was taken to a north-west London hospital, the service said.
Duty staff who live on site were on the scene "immediately" and started moving animals to safety, the zoo said.
In a statement the zoo said it was "devastated" to hear of the death of one of its animals.
It said: "Sadly our vets have confirmed the death of our nine-year-old aardvark, Misha. There are also four meerkats unaccounted for at this stage, and we have limited access to site to confirm this.
"All other animals in the vicinity are being monitored closely by our vets, but early signs suggest they have not been affected. We will continue to monitor them over the coming days."
The zoo said it would reopen "when we know it is safe to do so for animals, staff and visitors".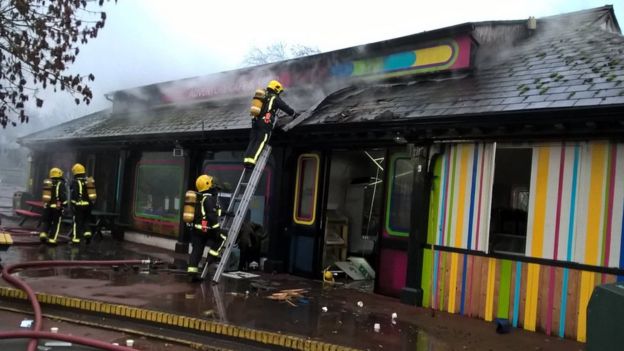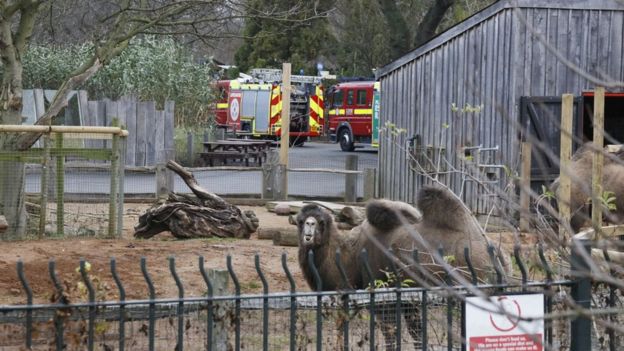 BBC News.