An army bomb disposal team is at a house in Chesterfield after police arrested four men in terror raids across South Yorkshire and Derbyshire.
A cordon has been set up and nearby homes are being evacuated at the site in central Chesterfield, police said.
A 31-year-old man who lives at the address has been arrested on suspicion of terror offences.
Three other men aged 22, 36 and 41 were arrested in the Burngreave, Meersbrook and Stocksbridge areas of Sheffield.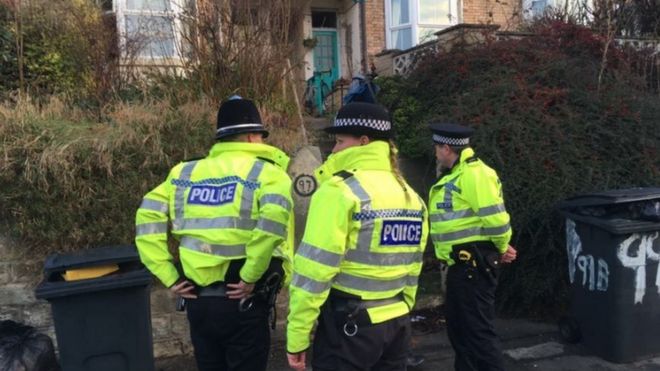 All four suspects have been taken to a police station in West Yorkshire for questioning.
They were detained on suspicion of being concerned in the commission, preparation or instigation of acts of terrorism under the Terrorism Act 2000.
A neighbour in Shirebrook Road, Sheffield, reported hearing "an enormous bang" as the raid took place at 05:30 on Tuesday.
Carol Perry, who lives two doors from the scene, said: "I was asleep and then I was woken suddenly... and the house shook.
"My immediate thought was that it was an earthquake."
A spokeswoman from Counter Terrorism Policing North East said: "The public may have heard a loud bang at the time as police entered one of the properties, but it was not an explosion.
"[We] would like to reassure them that it was part of the method to gain entry to the property."
BBC News.