US President Donald Trump has praised the UN Security Council for imposing tough new sanctions on North Korea in response to ballistic missile tests.
In a tweet, Mr Trump said the vote proved the world "wants peace, not death".
The US-drafted resolution includes measures to slash North Korea's petrol imports by up to 90%.
China and Russia, Pyongyang's main trading partners, voted in favour of the resolution.
North Korea is already subject to a raft of sanctions from the US, the UN and the EU.
"The United Nations Security Council just voted 15-0 in favor of additional Sanctions on North Korea. The World wants Peace, not Death!" Mr Trump tweeted.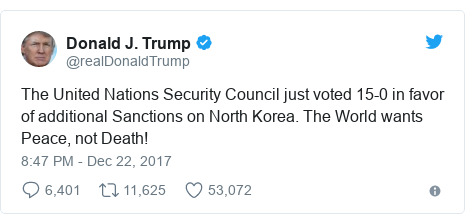 The US ambassador to the UN, Nikki Haley, said the sanctions sent an "unambiguous message to Pyongyang that further defiance will invite further punishments and isolation".
She described North Korea as "the most tragic example of evil in the modern world".
UK Foreign Secretary Boris Johnson said the latest measures against North Korea were a "vital step" towards curbing its nuclear weapons programme.
He said the international community had shown it was united in its condemnation of the North's "reckless behaviour".
The Chinese foreign ministry described the situation on the peninsula as "complex and sensitive" and called on all sides to "exercise restraint and make active efforts to ease tensions".
BBC News.