Several heavily-armed attackers burst into a luxury hotel in the Afghan capital, taking around 100 people hostage as frantic guests tried to escape through windows several floors up.
Afghanistan's Interior Ministry said 18 people (14 foreigners and four Afghans) were killed in the assault by several insurgents who stormed the five-star Intercontinental Hotel using guns and hand grenades on Saturday evening.
Around 100 people were taken hostage and the siege ended after 12 hours when the last of the attackers was killed in a gun battle with Afghan security forces.
More than 150 people, including 41 foreigners, were rescued from the hotel. Six members of the police and special forces were injured, along with four civilians.
Witnesses said some areas of the building looked like a butcher's shop with blood everywhere.
They said gunmen shot at people who were having dinner in one of the hotel restaurants before breaking into guests' rooms and taking dozens of hostages.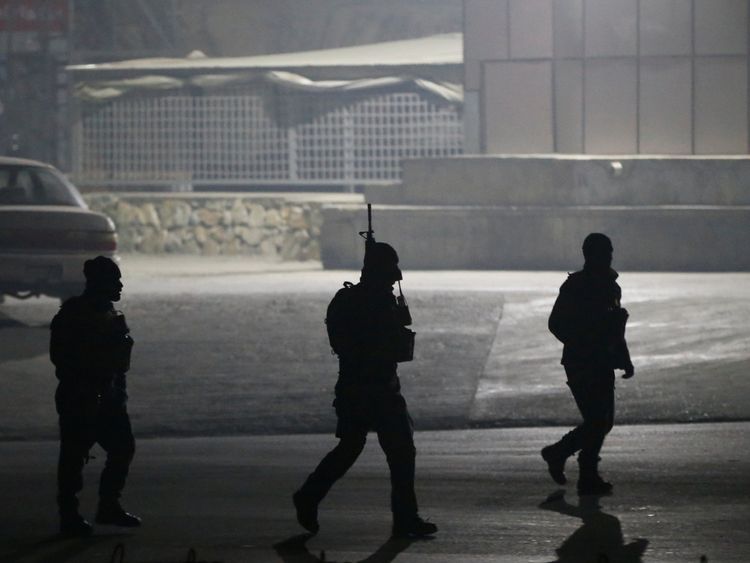 Several people managed to escape to the hotel's outdoor pool area where they hid, listening to the deadly attack unfold just metres away.
One guest, Aziz Tayeb, who hid behind a pillar, said: "I saw people who were enjoying themselves a second ago screaming and fleeing like crazy, and some of them falling down, hit by bullets.
"I could repeatedly hear blasts one after another, hand grenades, they used many grenades.
"We contacted security officials who arrived an hour later and as we were being escorted out I saw five or six bodies outside the hotel.
"The second, third and fifth floors were on fire - the fifth floor was engulfed in flames."
Just days earlier, there was a US embassy warning of possible attacks on hotels in the city.
SKY News.