Furious protesters have accused train companies of forcing passengers to "pay through the nose" as they were hit by a New Year price hike.
Around 40 pickets sprung up from Brighton to Berwick-upon-Tweed, as well as in London's King's Cross station, to slam the rise on the first working day of 2018.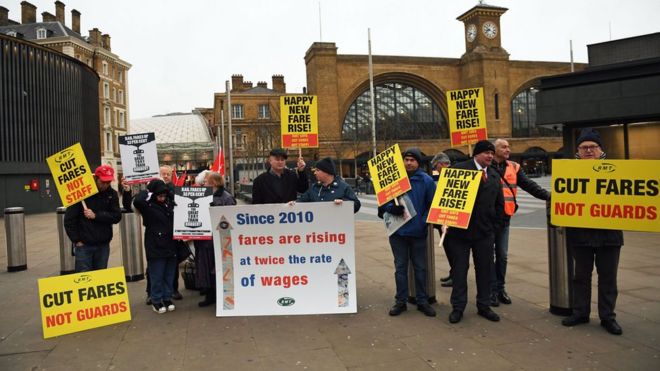 Passengers catching a train on Tuesday were hit with an average ticket price rise of 3.4%, with some commuter routes set for price hikes of more than £100.
The jump means some commuters are now spending up to five times as much of their salary on season tickets as people on the continent.
Top five average increases by operator:
4.7% - Northern.
4.6% - TransPennine Express.
4.1% - CrossCountry.
3.6% - Merseyrail.
3.4% - Virgin Trains East Coast, Greater Anglia, London Overground and TfL Rail Travelcards and price caps.
Season tickets into London from Theresa May's Maidenhead constituency are to rise by £104 to £3,092 and one from Liverpool to Manchester is going up by £108 to £3,152, with the average cost to increase by a third faster than wages this year.
Last year the average price hike was 2.3%, with season tickets into London terminals going up by £74, compared to £146 this year.
Raja Amin, an organiser for the Rail, Maritime and Transport (RMT) union in the Midlands, told Sky News: "People are paying through the nose - 3.4% is the biggest increase in the last five years. It's really unfair for those people.
SKY News.