Angela Merkel has said she is "not frustrated" by the Brexit process but is "curious" to know more about the UK's aims after meeting Theresa May.
The German chancellor said she hoped to establish "common ground" on future trade goals in the coming months and wanted a "close partnership" of equals.
Mrs May said she wanted a "bold and ambitious" trade partnership as well as a new security arrangement with the EU.
But amid calls for more UK detail, she said it was not a "one-way street".
Friday's meeting between the two leaders at Berlin's Chancellery comes ahead of a speech on Saturday in which Mrs May will set out the "security partnership" she envisages with European partners at the annual Munich Security Conference.
British ministers are making a series of speeches mapping out the "road to Brexit" to counter criticism of a lack of clarity and contradictions in their vision of the UK's future relationship with the EU once it leaves in March 2019.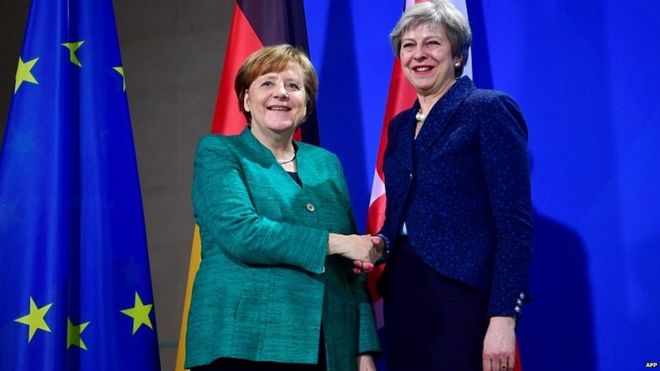 Asked whether she was frustrated by the UK's position, Mrs Merkel said: "I'm not frustrated at all.
I'm just curious how Britain envisages this future partnership and obviously we also have our own vested interests as regards, for example, economic commitments."
She added: "We would like to preserve this close partnership and maybe both sides, in a way, are in a process of learning and trying to find out where we find common ground."
Asked about the possible trade relationship the UK could expect with the EU, she said the partnership would not be as close as it currently is, but that this did not mean "cherry picking" from the UK side would be required in what she anticipated would be a "very complex set of negotiations".
BBC News.