Darren Lehmann is to quit as head coach of Australia at the end of the current Test series against South Africa.
The 48-year-old will step down after the final Test in Johannesburg, which starts on Friday, in the wake of the ball-tampering scandal.
Lehmann, who was cleared of any wrongdoing by Cricket Australia, had said on Wednesday he would not resign.
Former skipper Steve Smith plus batsmen David Warner and Cameron Bancroft were banned for their part in the scandal.
Lehman made his decision after watching Smith and Bancroft deliver emotional apologies at news conferences earlier on Thursday.
"After viewing Steve and Cameron's hurting, it's only fair that I make this decision," said Lehmann.
"I'm ultimately responsible for the culture of the team.
"This will allow cricket Australia to complete a full review into the team and allow them to implement changes to regain the trust of the Australian public, this is the right thing for Australian cricket.
"It's been a wonderful experience coaching the Australian cricket team. I hope the team rebuilds from this and the Australian public finds it in their hearts to forgive these young men."
He added: "They've made a grave mistake but they are not bad people."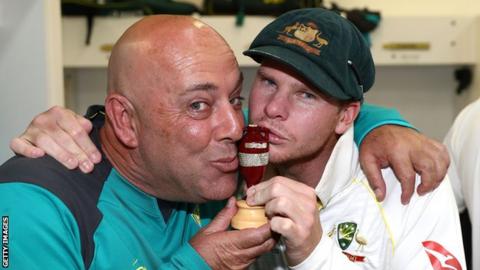 BBC News.