A gunman who shot and injured two teenage students at a high school in the US state of Maryland has died of a gunshot wound, police say.
A 16-year-old girl, who is in a critical condition, and a 14-year-old boy are being treated in hospital.
The attack happened on Tuesday morning before lessons at Great Mills High School in St Mary's County, 65 miles (104km) south-east of Washington DC.
It comes a month after a high school shooter killed 17 in Parkland, Florida.
An armed campus guard exchanged gunfire with the attacker - who has not been identified - but it is unclear if the gunman was hit by the guard's gunfire or shot himself.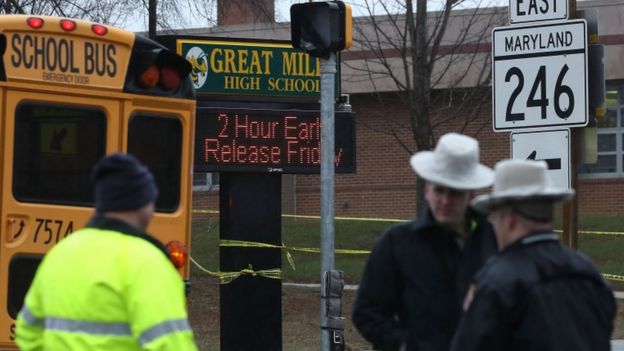 St Mary's County Sheriff Tim Cameron said the shooting began in a hallway at the school.
The gunman fired at a female and then a male student, hitting them both, he said.
"Our school resource officer who was stationed inside the school was alerted," he told reporters.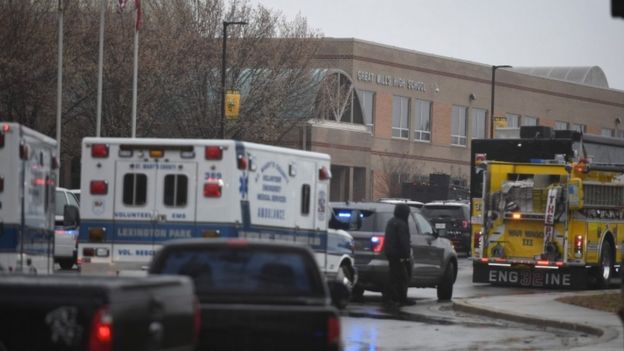 "He pursued the shooter, engaged the shooter. During that engagement he fired a round at the shooter.
"Simultaneously, the shooter fired a round as well," he said.
The school security guard was not hurt, Mr Cameron said, adding that the gunman's cause of death was still under investigation.
The female student is in a critical condition in hospital.
BBC News.