The leaders of the two largest parties to emerge from Sunday's general election in Italy have talked up their economic plans in a bid to win support.
Matteo Salvini of the anti-illegal migrant League promised to defy Brussels by cutting taxes and a top figure in the anti-establishment Five Star Movement also mooted tax cuts.
President Sergio Mattarella has called for "a sense of responsibility".
Formal talks on creating a new government only start after 23 March.
That is when the new parliament picks speakers for the upper and lower houses.
In an interview with Italian newspaper Corriere della Sera, party leader Luigi Di Maio said his party, which won 32% of the vote, was drawing up new economic proposals to be included in the outgoing government's multi-year economic plan.
"We want to move quickly," the Five Star leader said. "If the other parties want to propose other measures that will help people then we are ready to discuss them."
The government's plan must be submitted by 10 April. Mr Di Maio said his party's proposals would act as a benchmark for coalition agreements with other parties.
Danilo Toninelli, tipped to be Five Star's Senate floor leader, outlined the ideas to reporters.
"If we propose issues like universal income, lower taxes and an anti-corruption law, which are also present in the programmes of other political forces, they owe us an answer," he said.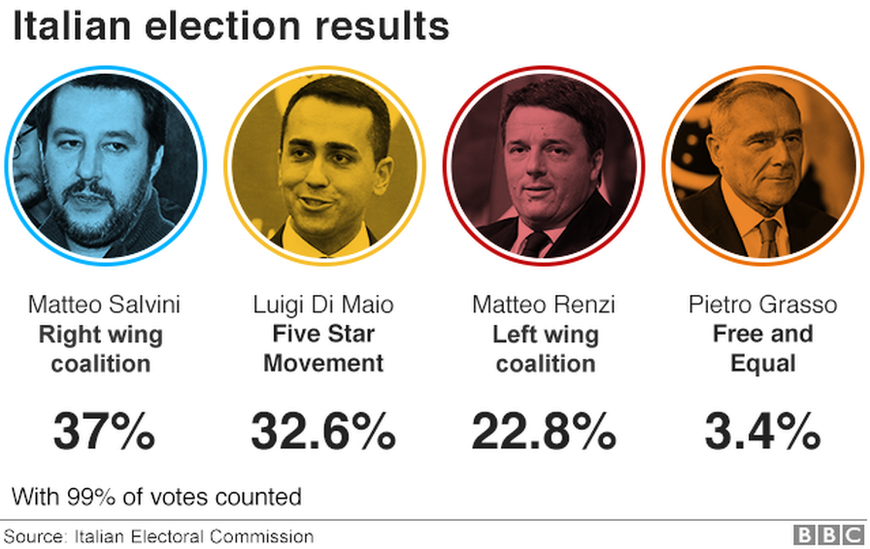 BBC News.