The Army have been deployed to rescue hundreds of drivers, as sub-zero conditions continue across the UK.
The military are helping police in Greater Manchester free motorists stranded in snow from the M62.
Major incidents have been declared in Wiltshire, Hampshire and Avon and Somerset, as blizzards brought roads to a standstill. Elsewhere passengers were trapped on freezing trains.
Flights and trains have been cancelled and thousands of schools are shut.
There are 10 severe weather warnings in place for the UK. The final warning is in force until 23:55 GMT on Monday.
National Grid's first "gas deficit warning" for eight years has been withdrawn. The power operator issued the warning on Thursday, saying it might not have enough gas to meet demand due to the cold.
Police forces across the UK have told people to travel only if necessary.
There is a warning of black ice on the M6. Highways England has said some of the worst problems are near Rochdale on the M62 - which is closed as stranded vehicles are cleared - and on the A303 near Ilminster and the A31 in the New Forest - where the Army have been helping to rescue drivers.
On the M62, volunteers from Milnrow, Rochdale, took hot drinks, food and blankets to some of those stuck - including a bottle of warm milk for a five-week-old baby.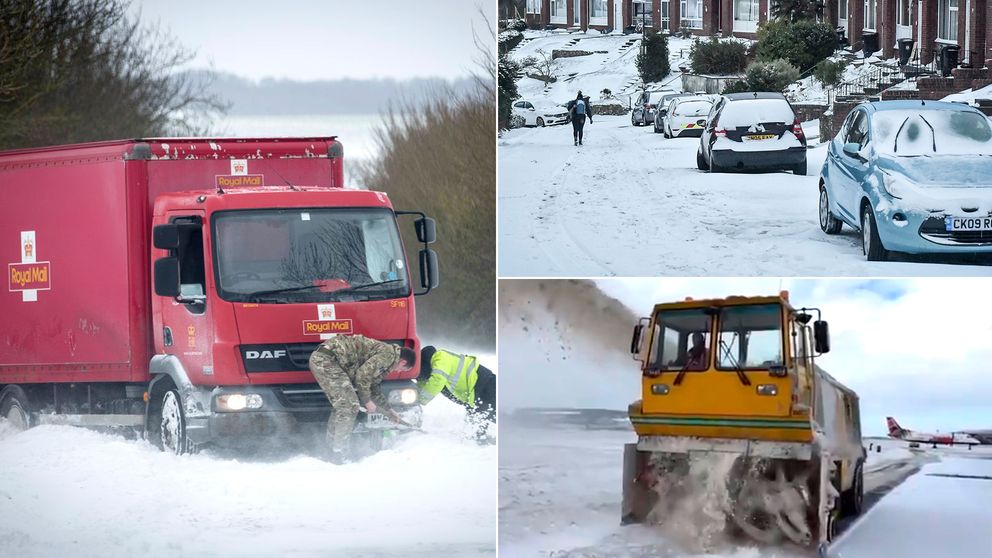 BBC News.