The Texas serial bombing suspect has been killed after blowing himself up in his car as police closed in.
The suspect set off the explosive device inside his vehicle as a SWAT team approached.
One of the SWAT officers also shot at the vehicle and an officer was injured in the explosion.
Mr Manley said the motive behind the series of bombings, which killed two people, was unknown.
He also urged Texas residents to be "vigilant" for other possible explosives, adding: "We do not know where he has been in the past 24 hours."
US president Donald Trump, who had earlier branded the Texas bomber a "sick individual", praised law enforcement officials.
Michael Luna, who was outside a nearby hotel in Round Rock, said he heard the explosion after seeing a large group of officers arrive at around 2am.
He told KXAN-TV: "I'm ex-military so it kind of sounded like two grenades went off at one time. After the bomb went off, I heard another pop after it.
The Bureau of Alcohol, Tobacco, Firearms and Explosives had earlier confirmed it was at the scene "of the individual suspected in the package bomb murders" on the I-35 highway.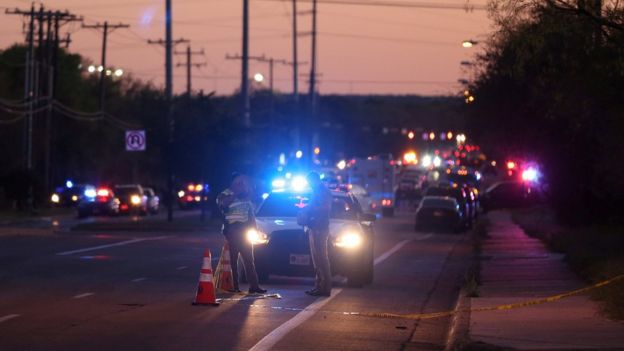 SKY News.