Vladimir Putin will lead Russia for another six years, after securing an expected victory in the presidential election.
A Russian state exit poll gave him 73.9% of the vote, easily defeating his closest competitor.
The main opposition leader, Alexei Navalny, was barred from the race.
The scale of victory - which had been widely predicted - was a marked increase in his share of the vote from 2012, when he won 64%.
A state exit poll put the turnout at 63.7%, down on 2012. Mr Putin's campaign had hoped for a large turnout, to give him the strongest possible mandate.
Reacting to the exit poll, his campaign team said it was an "incredible victory".
"The percentage that we have just seen speaks for itself. It's a mandate which Putin needs for future decisions, and he has a lot of them to make," a spokesman told Russia's Interfax.
In some areas, free food and discounts in local shops were on offer near polling stations.
Early results showed that with just 25% of boxes counted, Mr Putin had almost 73% of the votes.
Exit polls, published as soon as voting ended, showed that Mr Putin's closest opponent, Pavel Grudinin, was only projected to win 11.2%.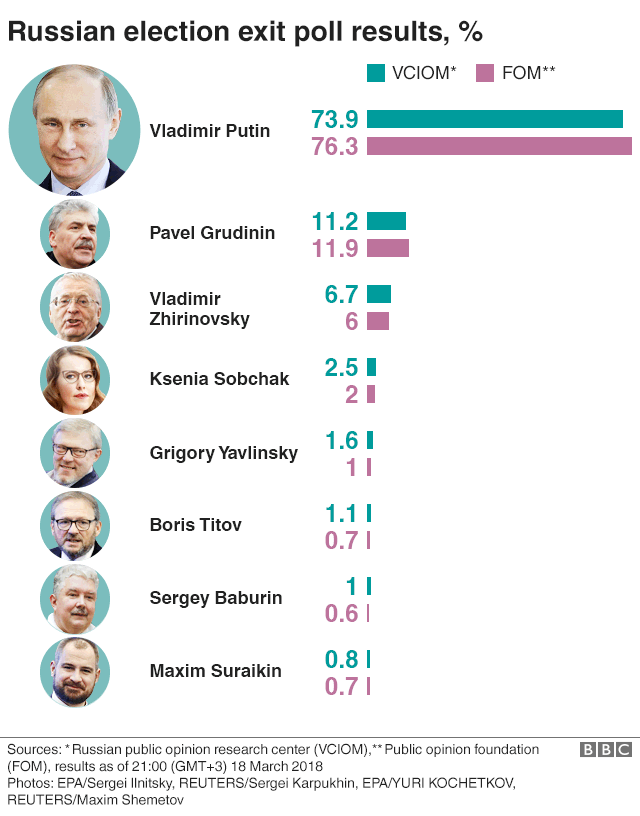 BBC News.