Pub chain JD Wetherspoon has used Twitter to tell its 44,000 followers that it is quitting social media.
The firm's head office and 900 pubs will quit the micro-blogging site, and also Instagram and Facebook, with immediate effect, it said.
The pub chain linked the move to bad publicity surrounding social media including the "trolling" of MPs.
Chairman Tim Martin told the BBC that society would be better off if people cut the amount of social media use.
The firm said its decision had also been influenced by concerns regarding the "misuse of personal data" and "the addictive nature of social media".
"We are going against conventional wisdom that these platforms are a vital component of a successful business," said Mr Martin.
He told the BBC he had always thought the idea that social media was essential for advertising was untrue.
"We were also concerned that pub managers were being side-tracked from the real job of serving customers," he said. "I don't believe that closing these accounts will affect our business whatsoever."
The chairman said that it had consulted its pub managers before making the move, and "90-to-95% felt using social media was not helping the business".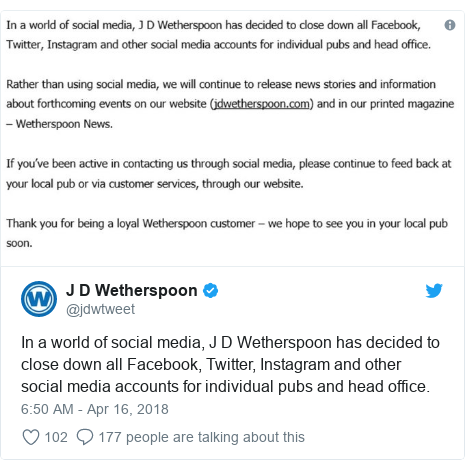 BBC News.