The suicide bombers who attacked three churches in Indonesia were a family of six that included a nine-year-old girl.
The family's father exploded a car bomb, while the mother was with their two daughters aged nine and 12 and two sons aged 18 and 16 used a motorbike in an attack on another church, police said.
The family had been in Syria, where Islamic State until recently controlled large areas of the country, said the national head of police, Tito Karnavian.
Islamic State has said it was behind the bombings, which were the worst since a series of attacks on churches on Christmas Eve in 2000 killed 15 people and wounded nearly 100.
Police spokesman Frans Barung Mangera said: "The husband drove the car, an Avanza, that contained explosives and rammed it into the gate in front of that church."
He said the wife and two daughters were involved in an attack on a second church and at the third church "two other children rode the motorbike and had the bomb across their laps".
At least four people were killed and more than 40 wounded in the first attack at the Santa Maria Roman Catholic Church, officials said.
Shattered glass and chunks of concrete littered the entrance of the church, which was sealed off by heavily armed police.
Rescuers treated victims on a nearby field while officers were inspecting wrecked motorcycles in the parking lot that were burned in the explosion.
The blast was followed by a second explosion minutes later at the Christian Church of Diponegoro and a third at the city's Pantekosta Church.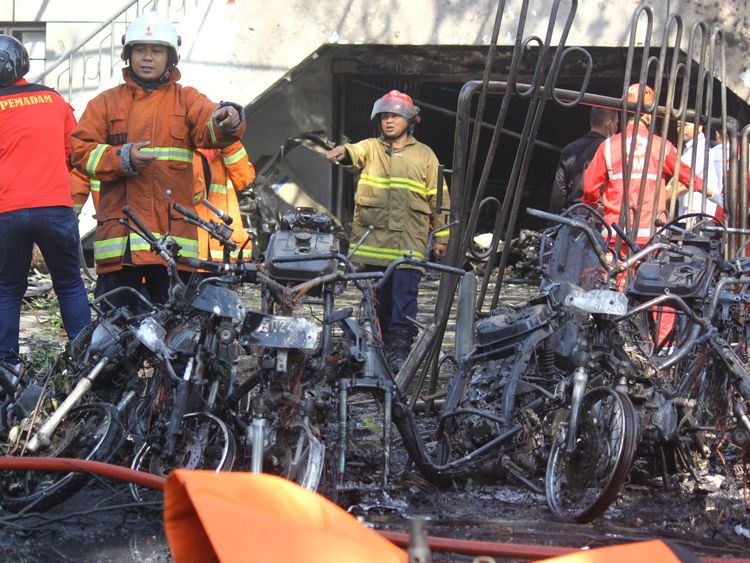 SKY News.