A Malian man hailed a hero after saving a child dangling from a fourth floor balcony in Paris will be granted French citizenship.
daring rescue went viral on social media
.
As well as being made a French citizen, the 22-year-old - who recently moved to the country in the hope of a new life - will be offered a place in the fire brigade, Mr Macron said on Monday.
Mr Gassama also received a certificate of courage and dedication signed by Paris police chief Michel Delpuech on his visit to the presidential residence.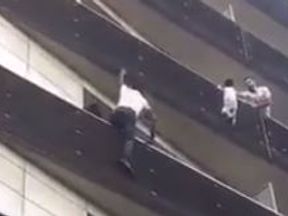 SKY News.