Iran will face the "strongest sanctions in history" if it doesn't change course, US Secretary of State Mike Pompeo has warned.
In his first major policy speech since taking on the role of America's top diplomat last month, Mr Pompeo detailed the requirements Iran must abide by in a new agreement.
This would replace the Joint Comprehensive Plan of Action (JCPOA), signed under Barack Obama but branded the "worst deal ever" by Mr Trump even before he took office.
The US will "apply unprecedented financial pressure" to force Iran into new negotiations, Mr Pompeo said on Monday.
"These will end up being the strongest sanctions in history by the time we are complete," he declared, also issuing a promise that the US will ensure "Iran has no possible path to a nuclear weapon, ever".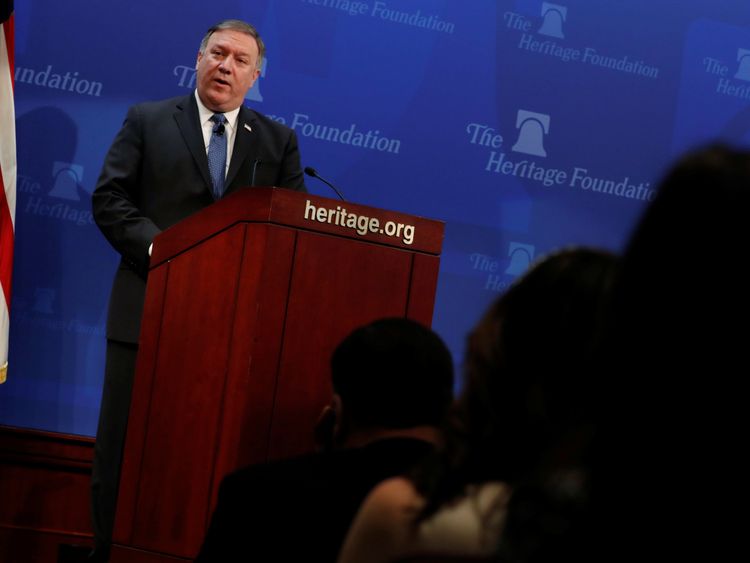 US Secretary of State Mike Pompeo
Mr Pompeo acknowledged "that is their decision to make", but added: "They know where we stand."
Imploring Iran to "choose a different path", Mr Pompeo said America would be "fully prepared to respond" if the country resumed its nuclear programme.
He said: "Our demands on Iran are not unreasonable: give up your programme.
"Should they choose to go back, should they begin to enrich, we are fully prepared to respond to that as well.
"I hope they will make a different decision, choose a different path," he added.
Mr Pompeo's 12-strong list of demands for Iran include Tehran ceasing the enrichment of uranium, which is allowed within strict limits by the JCPOA.
Iran must also allow "unqualified access to all sites throughout the country" and declare all previous efforts to build a nuclear weapon.
In addition, Tehran should end support for Houthi rebels in Yemen, "withdraw all forces" from Syria, cut ties with Hezbollah and stop threatening Israel, Mr Pompeo added.
US citizens missing in Iran or being held on "spurious charges" must also be released, the US secretary of state said.
Mr Pompeo said: "This list may seem long to some, but it is simply a reflection of the massive scope of Iranian malign behaviour.
"America did not create this need for changed behaviour. Iran did."
However, in return, Mr Pompeo offered Iran a series of concessions from Washington if it makes "major changes".
SKY News.