Comcast, the US media conglomerate, has launched a bid for parts of 21st Century Fox, after getting rebuffed last year in favour of Disney.
Comcast said it has offered $65bn (£48.6bn) in cash for assets that include Fox's film and television studios and international businesses.
The bid sets up a fight with Disney, which announced its own plan to acquire those businesses last year.
The two firms are also vying for ownership of Sky in the UK.
Comcast said its proposal is "at least as favourable" to shareholders as Disney's plan.
The firm is offering Fox $35 per share in cash, which it says provides more shareholder certainty and is 19% higher than Disney's proposal, which involves exchanging shares.
Fox said it would "carefully review and consider" the offer.
It said it remains subject to the terms of its deal with Disney, a stock transaction valued at $52.4bn, or more than $66bn including debt, when it was announced in December.
That transaction, described by the two companies as a merger, was set to give Fox shareholders a roughly 25% stake in Disney.
As part of the deal, Disney pledged to seek full ownership of Sky.
Under both the Disney and Comcast proposals, Fox would create a new company to hold onto its news and sports businesses, including Fox News.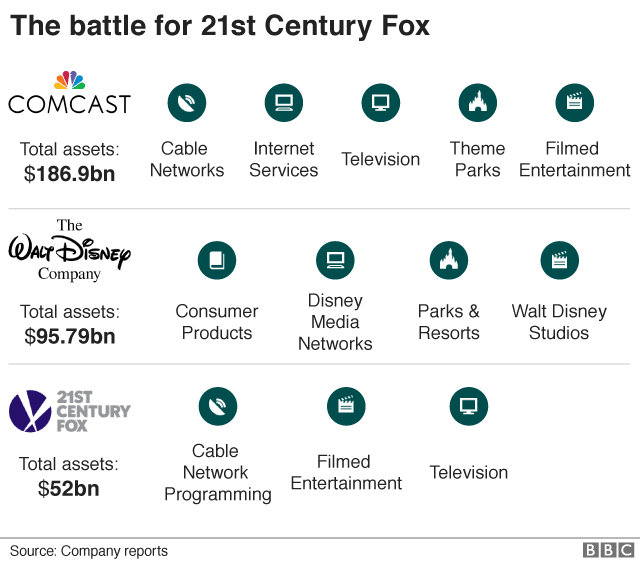 BBC News.