The Duke of Cambridge has visited Jerusalem's most sacred religious sites and his great-grandmother's grave on the final day of his official tour.
He laid flowers at the tomb of Princess Alice - the Duke of Edinburgh's mother - at the Church of Mary Magdalene.
Also on his itinerary was the Temple Mount/Haram al-Sharif, a site that is sacred to Jews and Muslims.
He then went to the adjacent Western Wall, the holiest site where Jews are permitted to pray.
Prince William's tour ended at the Church of the Holy Sepulchre, which is widely regarded as Christianity's holiest place. Many Christians believe Jesus was crucified, buried and resurrected on the site.
It is shared by the Greek Orthodox, Roman Catholic, Armenian Orthodox, Syriac Orthodox, Egyptian Copt and Ethiopian Orthodox denominations of Christianity.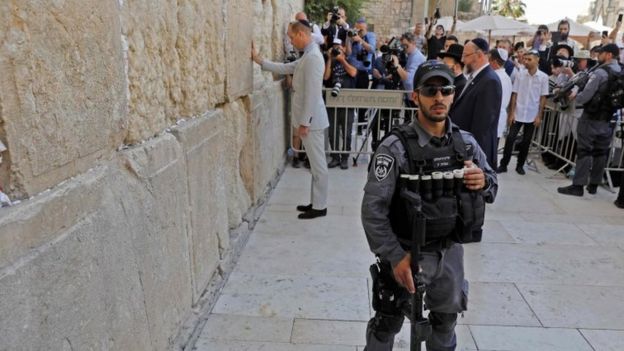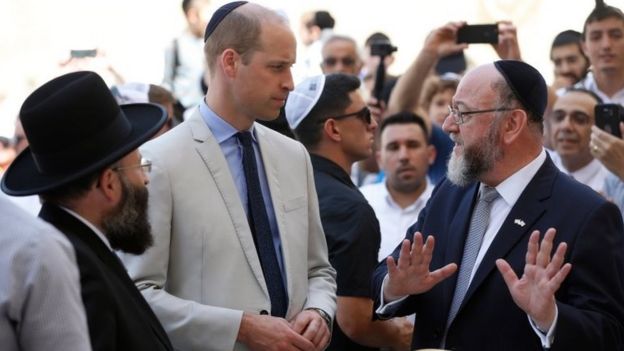 The duke began his morning on the Mount of Olives, taking in a view of Jerusalem's Old City.
There, he visited the Church of Mary Magdalene, a Russian Orthodox church and Princess Alice's final resting place.
In keeping with Russian Orthodox tradition, Prince William took bread and salt at the entrance of the church.
Inside, he laid flowers picked from the garden of Philip Hall - Britain's Consul General in Jerusalem - in the princess's crypt.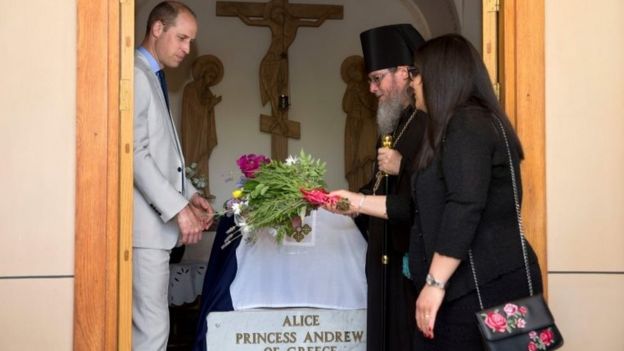 The duke laid flowers at the tomb of his great-grandmother, Princess Alice
Archimandrite Roman, head of the Russian Ecclesiastical Mission in Jerusalem, recited a "prayer for the repose of Princess Alice's soul" and the duke bowed his head with his eyes closed.
After the visit, Father Roman said: "He said he found it profoundly moving.
"He was certainly moved to learn more about his family history and pay his respects to his great-grandmother in such a holy place."
He said he shared a "little joke" with the prince.
"When I was showing him the family tree with the Russian links, I told the prince that I'd read somewhere that someone once asked Prince Philip if he had ever been to Russia, and that he had said: 'They murdered half my bloody family, so maybe I'll go, maybe not'.
"The prince laughed and said: 'He would say that'."
BBC News.