US President Donald Trump says his historic talks with North Korean leader Kim Jong-un that ended in a joint agreement were "tremendous".
The signed document includes a pledge from Mr Kim to rid the Korean peninsula of nuclear weapons.
The meeting was the first time a sitting US president has met North Korea's leader, and caps a remarkable turnaround for the two.
On nuclear weapons, Mr Kim "reaffirmed his firm and unwavering commitment to complete denuclearisation of the Korean peninsula".
However, speaking to reporters after, Mr Trump said:
The US would suspend "provocative" war games it holds with South Korea. Mr Trump said he wanted to see US troops withdraw from the South. A spokesperson for the US forces said they had yet to receive any new guidance
On denuclearisation, he said that Mr Kim had agreed to it being "verified", a key US demand ahead of the meeting
Mr Trump said Mr Kim had also agreed to destroy a "major missile engine testing site"
But he said sanctions would remain in place for now and argued "we haven't given up anything".
Several reporters asked whether Mr Trump had raised the issue of human rights with Mr Kim, who runs a totalitarian regime with extreme censorship and forced-labour camps.
Largely positive. South Korean President Moon Jae-in, who held his own meeting with Mr Kim earlier this year, said the "two Koreas and US will write new history of peace and co-operation".
A spokesman, though, also said the "exact meaning and intention" of what Mr Trump had said "needs to be assessed".
China, North Korea's only major diplomatic and economic ally, also said the meeting created a "new history". The foreign ministry said sanctions on North Korea could be eased if it stuck to UN resolutions.
Japanese Prime Minister Shinzo Abe praised President Trump's "leadership and effort", saying he supported North Korea's pledge on denuclearisation as "a step towards the comprehensive resolution of issues around North Korea".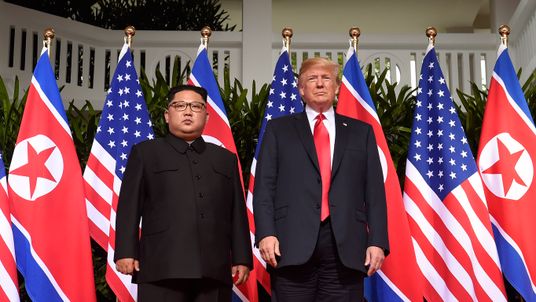 BBC News.